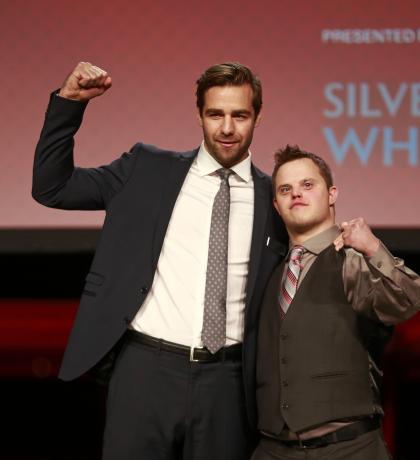 The "ceiling-breaking" power of sport and Special Olympics was on full display at the 2015 Sports Celebrities Festival presented by Silver Wheaton.
Held on October 20 at the Vancouver Convention Centre, the 17th annual gala benefitting the Canucks for Kids Fund and Special Olympics BC brought together more than 650 generous supporters along with SOBC athletes, the entire Vancouver Canucks roster, and other top B.C. sports celebrities for an inspiring evening that raised more than $350,000.
Vancouver Canucks forward Chris Higgins, whose sister is a longtime Special Olympics athlete in New York, made the audience laugh with his gentle teasing of his teammates and tugged heartstrings with his vivid description of the power of Special Olympics.
"Special Olympics is a ceiling-breaking organization, and I've seen it firsthand. To see the impossible made possible makes you look at challenges in a whole different way," he said.
Higgins introduced sharp-dressed Special Olympics athlete speaker Dallas Gilchrist of SOBC – Kamloops, a dedicated swimmer who was a highlight of the evening for many attendees.
"When I'm racing, I feel strong and powerful. I want to make people proud and not give up," Gilchrist said.
Watch Gilchrist and Higgins speak at the 2015 SCF:
Gilchrist closed with his own great advice from the heart.
"I have learned lots from Special Olympics. But most of all, I have learned you need to have heart in everything you try. Don't give up! Be yourself – be who you are. But most of all – have fun!"
Over the last 17 years, the Sports Celebrities Festival presented by Silver Wheaton has had a significant impact for its charitable causes. The event has raised $4 million to support the life-changing work of the Canucks for Kids Fund and Special Olympics BC. The funds help empower athletes with intellectual disabilities to gain confidence, acceptance, and pride through sport, and also provide vital opportunities, resources and much-needed care to children and families throughout B.C.
This year's inspiring and interactive gala saw the entire Vancouver Canucks roster come out in style along with alumni, coaches, and management. They were joined by members of the BC Lions generously giving their time to the event as their regular season draws to a close, and by Vancouver Whitecaps FC icons Bob Lenarduzzi and Carl Valentine who took the time to participate just as the club wraps up their most successful regular season to date. BC Lions alumni Tommy Europe and Angus Reid brought added star power.
In addition, the roster of SOBC athletes who took part in the SCF included several members of Team Canada who competed with pride in the 2015 Special Olympics World Summer Games in Los Angeles, as well as members of Team BC gearing up for the 2016 Special Olympics Canada Winter Games in Corner Brook, Newfoundland.
The event also featured Sportsnet Central hosts Caroline Cameron and James Cybulski as the engaging MCs, Brent Butt bringing the laughs with his standup set, and up-and-coming new group V who delivered a beautiful vocal and piano performance. Throughout the night, guests also bid on auctions and enjoyed games and activities while mingling with the celebrities, and TSN Radio conducted live broadcasting from the event.
We thank all of the Sports Celebrities Festival sponsors, attendees, and supporters who give so generously each year. Our heartfelt gratitude goes to the SCF sponsors:
Presenting Sponsor Silver Wheaton;
Major Sponsors Canaccord Genuity and Macquarie Group Foundation;
Event Sponsors Capilano Suspension Bridge Park, Home Hardware, J. Lohr Vineyards & Wines, lululemon, Palladio Jewellers, Silver Wheaton, and TD; and
Media Sponsors Rogers Sportsnet and TSN Radio.
And special thanks to the Vancouver Canucks!
Watch the fun Canucks TV segment covering the event:
More event coverage: