We know smoking keeps athletes and coaches from giving their best efforts out on the fields, courts, gyms, rinks, tracks and pools.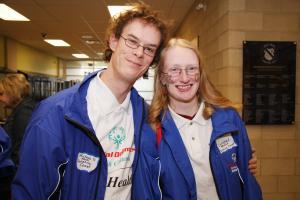 Spit tobacco and chew don't help either – many people don't realize these substances are also harmful to their bodies and can impact performance.
We also know it can be wrenching to quit cold turkey, and stop-smoking aids (such as nicotine gum and patches) can be costly.
The Province of B.C. has created an initiative to make sure more help is at hand, which began Sept. 30, 2011. Special Olympics BC wants to support any of the members of the SOBC family looking to get the assistance they need.
British Columbians now have the choice of either nicotine gum or patches to help quit tobacco with a free supply for up to 12 weeks or obtaining coverage of prescribed smoking-cessation drugs through PharmaCare.
We would like to encourage members of the Special Olympics BC community to take advantage of these affordable quitting tools, and the help we are offering. We want to support SOBC athletes, coaches and volunteers who have been looking for ways to quit – there's no reason not to Quit Now!
Be inspired by SOBC – Sunshine Coast athlete Mike Oswald and his Quit Now journey:
Part 1 | Part 2 | Part 3
And SOBC – Campbell River athlete David Marsters who won big with Quit Now
We are encouraging members of the SOBC family who want to take advantage of these tools to connect with us. We can help you access with more resources to help you kick the habit, and we will be here to cheer you on!
Please contact Special Olympics BC Sport Coordinator Steph Stresing by email at sstresing@specialolympics.bc.ca or by phone at 604-737-3081. 
Further support is available by registering with quitnow.ca. QuitNow Services currently offers a confidential helpline (1-877-455-2233) with information in 130 languages and an online quit community with 24/7 support from professionals and peers.