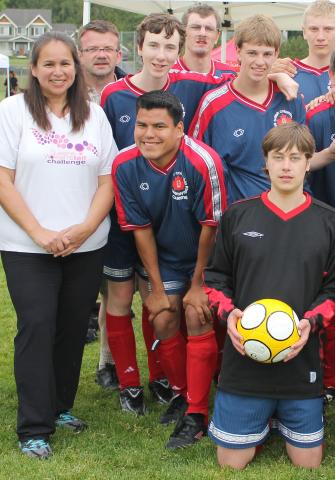 Rick Prosk is a true "difference maker," according to those who watch him in action with Special Olympics BC – Quesnel and who described him as a most deserving recipient of the 2012 Grassroots Coach Award.
Respected and dedicated, selfless and inclusive, adaptable and approachable: Those are just a few of the many fine qualities embodied by this stellar coach. Rick is the Head Coach of soccer and Assistant Coach of curling for SOBC – Quesnel, and he is lauded for his coaching excellence, his strengths as a leader and mentor, and his abundant support of athletes both on and beyond the fields of play.
"Rick adapts his coaching techniques to strengthen relationships with each athlete – he promotes fair play and is a positive role model providing consistent leadership qualities upon which athletes have come to rely," his nominators wrote.
"He is continuously bringing forward ideas to provide maximum opportunities in our Local for athletes to enhance every aspect of their lives daily, weekly, monthly, and year after year."
In the eight years that Rick has been with SOBC – Quesnel, he has demonstrated time and again his generous spirit and willingness to go above and beyond for the benefit of athletes. Wherever there might be holes that could impact the experiences of SOBC – Quesnel's athletes, Rick never fails to rise to the occasion with his ideas, his time, his leadership, and his amazing support.
The award nomination lists an incredible amount of creative and valuable initiatives that Rick has championed for the good of Quesnel athletes. When the curling program needed an assistant coach, "it was Rick who stepped into the position without hesitation (and he is still there) – which allowed for the program to continue, and a team of curlers qualified and participated at the 2011 SOBC Winter Sport Championships," Rick's nominators wrote.
Likewise, when the 5-pin bowling program had needed support several years earlier, again it was Rick to the rescue, giving his time and skills in order to provide more opportunities for athletes. Rick's support allowed a fourth team of athletes to participate in the SOBC Summer Games.
When adding to athlete experiences beyond the field of play, Rick is once again a force to be reckoned with. His initiatives bring about learning in both sport and life skills. He has championed everything from fundraising initiatives to implementation of Healthy Athletes programming that bring about significant benefits for athletes. He also serves as Athlete Coordinator, a position he took the initiative to create, using it to meet regularly with the athlete rep committee and provide support and assistance to them.
"Rick is a well-respected and valued member of our Local and our community. He exhibits positive behaviour and always practices responsible coaching, achieves and maintains excellence on the field, communicates effectively with all athletes, coaches, and parents, and values teamwork as an integral component in achieving the best opportunity for athletes/teams to improve in sport and in life," his nominators wrote.
Congratulations and sincere thanks, Rick!
Special Olympics BC salutes all of the 2012 Grassroots Coach Award nominees:
Ed Gerhardt (SOBC – Victoria)
Ann Jorgensen (SOBC – Campbell River)
Laurie Miller (SOBC – Sunshine Coast)