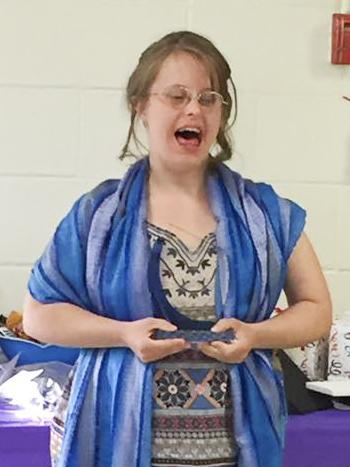 Special Olympics BC – Richmond's Kelsey Thomson is a cheerful, compassionate athlete who is always looking to support her teammates. Described by her nominators as an inspiring leader and role model to other athletes, Thomson is the deserving winner of SOBC's 2017 Spirit of Sport Award. 
A hardworking multi-sport athlete, Thomson loves to try new sports and embraces new challenges with a positive attitude. She always tries her best, and even if she doesn't win she makes sure to congratulate the other participants. Thomson cares about the wellbeing of everyone in SOBC – Richmond and she goes out of her way to cheer on other athletes, help them develop sport skills, and make them feel better when they are having a bad day.
"We truly feel that Kelsey exemplifies what it means to be a Special Olympics athlete. She just brightens a day with her smile, positivity, and endless passion just to try no matter what. She is just a joy to be around and a person who brings happiness to others," her nominators wrote.
Thomson is always eager to support SOBC – Richmond. She consistently volunteers at her Local's functions and recently took part in SOBC's Athlete Speakers Bureau 1 course so she can promote Special Olympics in her community.
A dedicated athlete, Thomson has won medals in rhythmic gymnastics in SOBC Summer Games and Special Olympics Canada Summer Games. After challenging herself to take up track and field, she won a gold and two silver medals at the 2013 SOBC Summer Games and competed in the 2014 Special Olympics Canada Summer Games.
Thomson has a great relationship with her coaches and she appreciates their advice and direction. She is grateful to everyone who helps provide SOBC athletes with life-changing opportunities and she makes an effort to thank coaches and volunteers whenever she can.
Thank you, Kelsey, for inspiring others with your sportsmanship, dedication, and compassion!
Special Olympics BC sincerely congratulates all of the other nominees for the 2017 Spirit of Sport Award:
Connor Charlong, SOBC – Grand Forks
Mathew Deforge, SOBC – Port Alberni
Chelsea Kaake, SOBC – Delta
Raymond Mabayo, SOBC – Vancouver
Kendall Salanski, SOBC – Kimberley/Cranbrook
Wally Trotter, SOBC – Victoria
Past Spirit of Sport Award recipients:
Walter and Danny Dion, SOBC – Campbell River (2009)
Tanya McIntosh, SOBC – Kelowna (2008)
Katarina Gerhardt, SOBC – Kelowna (2007)
Jan Mareels, SOBC – Vancouver (2006)
Keith McPhail, SOBC – Victoria (2005)
Janet Robertson, SOBC – Powell River (2004)
Paul Aubuchon, SOBC – Campbell River (2003)
Sherry Rempel, SOBC – Prince George (2002)
Rob Misjak, SOBC – North Shore (2002)
Krista Meldrum, SOBC – Campbell River (2001)
Scott Ellison, SOBC – Richmond (2001)
Marie Putnam, SOBC – Vancouver (2000)
Cal Brandolini, SOBC – North Shore (2000)
Carrie Poulin, SOBC – Nelson (1999)
Mathew Brewer, SOBC – Prince George (1999)
Jane Murray, SOBC – Coquitlam (1998)
Marc Theriault, SOBC – Surrey (1998)
Graeme MacKinnon, SOBC – Burnaby (1997)
Barb Scrutton, SOBC – Coquitlam (1996)
Barry Creasy, SOBC – Kimberley/Cranbrook (1996)