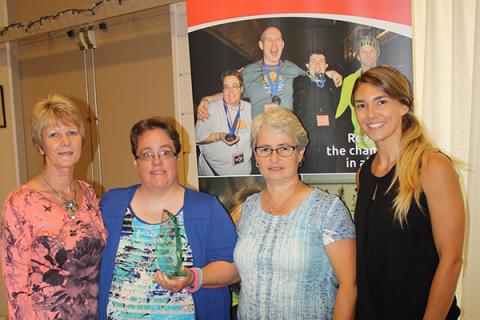 Special Olympics BC – Port Alberni's Simone Myers is a valued teammate and a pleasure to coach. Myers always encourages fellow athletes to have fun and to do their best, and she was the deserving recipient of SOBC's 2016 Spirit of Sport Award.
Myers has been involved with SOBC for 13 years and currently participates in 5-pin bowling, swimming, basketball, curling, floor hockey, athletics, and softball. She is a caring teammate who is a friend to everyone in her Local. She calls to check up on fellow athletes when they are sick and miss practice, and she provides advice and support for teammates when they are having problems at practice or in their personal lives.
"She is a joy to coach as she never complains, always competes to the best of her abilities, and is not afraid to try new things. She always has a smile on her face, offering to help as she sees is needed," her nominators wrote.
Myers is a proud Special Olympics athlete who is grateful to the volunteers who support SOBC. Every year she writes and delivers a speech at SOBC – Port Alberni's year-end banquet thanking volunteers for their dedication and commitment. She does this by herself, and asks the Local's Executive Committee for permission to give the speech.
Always eager to support Special Olympics, Myers shows her dedication by frequently stepping up to help SOBC – Port Alberni fundraise. She also supports SOBC programs by encouraging her friends to sign up for the various sports offered in her Local.
A dedicated ambassador for SOBC, Myers can often be seen wearing her Special Olympics jacket in her community. Last year, she brought the silver medal she won in floor hockey at the 2015 Special Olympics BC Winter Games in Kamloops to her work. This inspired her coworkers to post a photo on Facebook congratulating her and her team.
Thank you, Simone, for demonstrating outstanding sportsmanship and dedication to Special Olympics! 
Special Olympics BC sincerely congratulates all of the nominees for the 2016 Spirit of Sport Award:
Julie Black, SOBC – Cowichan Valley
Dean Cake, SOBC – Quesnel
Jeremy Cheverie, SOBC – Victoria
Tyler Coe, SOBC – Delta
Dawn Hadler, SOBC – Salt Spring Island
Chelsea Kaake, SOBC – Delta
Roxana Podrasky, SOBC – Kimberley/Cranbrook
Adrian Rosen, SOBC – Prince George
Brad Smith, SOBC – Delta
Dallas Stager, SOBC – Vancouver
Kelsey Thomson, SOBC – Richmond