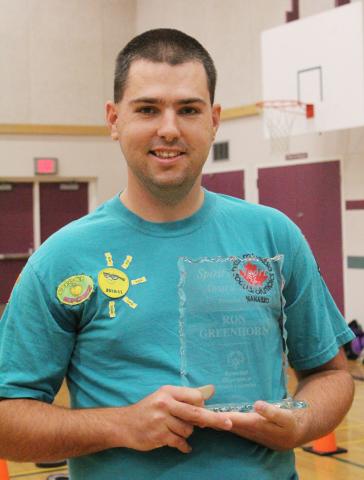 In 16 years as an SOBC athlete, Ron Greenhorn has demonstrated time and again the qualities that made him the deserving recipient of the 2011 SOBC Spirit of Sport Award: Ron is known for his kindness, his courteousness, his dedication and reliability, his warm supportiveness, and, most of all, his inspirational determination.
This 25-year-old SOBC – Nanaimo athlete is marking a quarter-century of beating the odds. Ron was diagnosed with autism and was unable to walk as a child. Now he has become a committed multi-sport athlete, a tireless community volunteer, a model of sportsmanship, and an exemplary teammate.
He has grown into a man who has proven he can live independently and thrive, a man who sets and is committed to achieving goals. Ron was determined to achieve success in downhill skiing, and he tirelessly puts in the work necessary to realize that dream, committing to getting himself to the mountains for practises, maintaining a coachable attitude, and striving hard. And his dedicated efforts paid off: he succeeded in moving into a higher level of competition, where he placed near the top though he didn't medal. Ron also won a bronze medal at the Disabled Ski Games in Mount Washington.
Alongside his downhill skiing success, Ron currently participates in 5-pin bowling, soccer, and track and field. He has also participated in athletic club, 10-pin bowling, floor hockey, curling, and swimming in seasons past. Ron is also a noted community volunteer, generously giving his time to support a number of causes in addition to his dedicated efforts for SOBC events and fundraisers. Ron gives back in an area where he once needed support himself by volunteering with a therapeutic riding program; he also helps with a community food program for low-income families, supports the community cooperative gardens and pitches in at the Morrell Sanctuary trails. Furthermore, he can be seen helping out at a wide variety of community events – everything from dragon boat and bathtub races to the Vancouver Island Exhibition.
John Campbell, Head Coach of alpine skiing for SOBC – Nanaimo, has coached Ron for 13 years, watching him grow from age 12 to 25. He says Ron shows boundless dedication as an athlete, and is an even better person on the sidelines. "In that time I have seen Ron go from a shy, low-skilled individual to an outgoing leader and mentor to all the new skiers that have joined our program. No matter what level of skier you are, Ron is always there to cheer them on and to offer his assistance. … He is by far the hardest-working athlete and the person that is always there for the other athletes," John says.
Congratulations, Ron, and thank you for all that you do!
Special Olympics BC congratulates all of the 2011 nominees for the Spirit of Sport Award:
Gordon Balderstone, SOBC – Vancouver
Andrew Bremner, SOBC – 100 Mile House
Jeremiah Cody, SOBC – Smithers
George Doykov, SOBC – North Shore
Matthew Lai, SOBC – Richmond
Cathy Mortensen, SOBC – Smithers
Darcie Muzychka, SOBC – Prince George
Paula Prough, SOBC – Trail