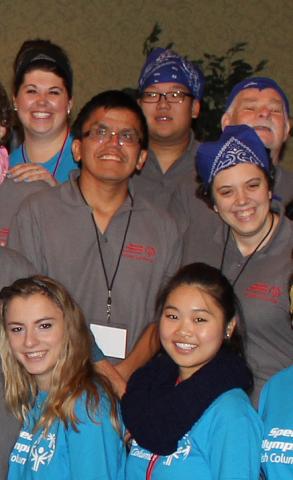 As an active multi-sport athlete, a true team player, and a great advocate for Special Olympics, Ryan Stewart of Special Olympics BC – Richmond is the deserving winner of SOBC's 2015 Spirit of Sport Award.
Stewart has been a Special Olympics athlete for more than 12 years, and has become known for his friendly, cheerful, supportive, and helpful nature and his dedication to Special Olympics. He is always one of the first to congratulate fellow athletes on their wins and accomplishments, and one of the first to step forward and volunteer to help out at special functions.
Conscientious and dedicated both on and off the fields of play, Stewart participates in many sports including soccer, floor hockey, and basketball, and has achieved great improvements and success through his hard work.
While Stewart was initially disappointed that he did not qualify for the 2015 Special Olympics BC Winter Games, his reaction showed great sportsmanship as he took it well. Then he was invited to join one of SOBC – Vancouver's floor hockey teams to compete at the Provincial Games in Kamloops; he and his team won gold and have qualified to be part of Team BC for the 2016 Special Olympics Canada Winter Games in Newfoundland and Labrador.
"At floor hockey, Ryan works hard and tries to improve his personal best each time," his nominators wrote. "He is enthusiastic and hardworking. Ryan has increased his stamina and strength, and that has supported his efforts in all sports."
Stewart is also a great asset as a volunteer and advocate, eagerly helping out at fundraising and awareness events, serving as an active member and strong leader with the SOBC – Richmond Athlete Council, and assisting the SOBC – Richmond FUNdamentals program as an athlete volunteer. He demonstrates great care, patience, and cheerfulness, with the young athletes, and they respond well to his support.
Congratulations Ryan, and thank you for all you do!
Special Olympics BC sincerely congratulates all of the nominees for the 2015 Spirit of Sport Award:
Charlie Kain (SOBC – Grand Forks)
David Marsters (SOBC – Campbell River)
Dawn Hadler (SOBC – Salt Spring Island)
Derek Santema (SOBC – Abbotsford)
Eddie Chen (SOBC – Vancouver)
Glenda Melnychuk (SOBC – Quesnel)
James Clifford (SOBC – Abbotsford)
Jeremy Cheverie (SOBC – Victoria)
Joshua French (SOBC – Abbotsford)
Julie Black (SOBC – Cowichan Valley)
Kelsey Thomson (SOBC – Richmond)
Matthew Lai (SOBC – Richmond)
Michaela Robinson (SOBC – Surrey)
Nick Toner (SOBC – Nelson)
Scott Jonasson (SOBC – Quesnel)
Shelley Marinus (SOBC – Comox Valley)
Simone Myers (SOBC – Port Alberni)