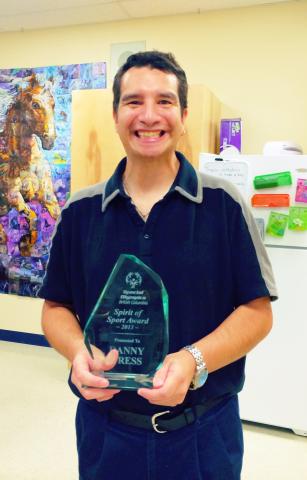 Special Olympics BC – Burns Lake athlete Danny Tress is known as a caring, positive, supportive, committed, and creative presence with his Local, and is the deserving recipient of the 2013 SOBC Spirit of Sport Award.
Danny has participated in all the sports that Special Olympics has offered in his small community over the past 13 years and shows no sign of slowing down. He currently participates in 5-pin bowling, curling, snowshoeing, and track and field, as well as fundraising events, enjoying everything that the Local has to offer.
Along with being an inspiring athlete, Danny is a valuable member of the Local Committee. As Athlete Representative, he is known for contributing creative suggestions and solutions in a constantly respectful manner. He is a pleasure to watch engage with other athletes, always providing encouragement and constructive advice about how to make their performances better.
In all of his sport practices, Danny's face always shows how much he is enjoying himself and giving it his all.
SOBC – Burns Lake has relaunched its programs over the past year, and during the hiatus Danny was one of the longtime athletes patiently awaiting the return of Special Olympics sports to their community. He reached out to the Manager of Community Development for his Region and offered to help in any way he could to get programs running again.
Now that the Local is back in action, Danny is an eager participant in everything and constantly has ideas for more programs to add to the Local's offerings. He has his heart set on seeing a powerlifting program get off the ground!
Danny is a reliable source of support and assistance for his Local, someone who can always be counted on to always answer the call no matter what the event. He also demonstrated his inspiring selflessness and desire to support others when Burns Lake hosted its first Law Enforcement Torch Run event, as he took time out from the run to help fellow athletes who were struggling in the heat.
When Danny received his Spirit of Sport Award, his delighted response was characteristically gracious and positive. He wanted to thank everyone from his Local and all of his friends in Special O around the province, and promises to keep working on being a mentor to others while working on his training.
Danny, you are a credit to Special Olympics! Congratulations.
Special Olympics BC sincerely all the nominees for the 2013 Spirit of Sport Award:
Adam Advocaat (SOBC – Coquitlam)
Alexander Bolt (SOBC – Golden)
Fred Crerar (SOBC – Castlegar)
Barbie Conway (SOBC – Prince George)
Janet Gowanlock (SOBC – Elk Valley)
Chris Harrington (SOBC – Kelowna)
Robbie Jongewaard (SOBC – Prince Rupert)
Marilee Manning (SOBC – Kamloops)
Tim McTeer (SOBC – Trail)
Kayleigh Postmus (SOBC – Trail)
Jonathan Robins (SOBC – Kimberley/Cranbrook)