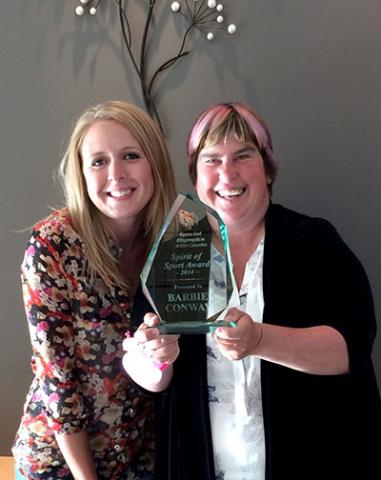 Special Olympics BC – Prince George athlete Barbie Conway is not only dedicated to sport and to helping her Local thrive, she is also known for going above and beyond to support her fellow Special Olympics teammates.
These are just a few of the reasons why we are proud to announce Conway as the 2014 SOBC Spirit of Sport Award winner.
Conway has been an SOBC – Prince George athlete for 16 years. She is an avid swimmer, cross-country skier, golfer, and member of the athletics team. Her talent and commitment have taken her far; she's competed in three Special Olympics Canada Games and a Special Olympics World Games.
This outstanding athlete is known for her keen sense of humour and ready smile.
Conway has shown her compassionate and genuine nature on many occasions, such as when she competed at the National Winter Games in St. Albert. When one of her teammates was disappointed about not winning a medal, she wanted to lend him one of hers for the team photo so he wouldn't feel left out. 
As well as being a wonderful, supportive presence around other athletes, Conway is a valued member of the SOBC – Prince George Executive Committee. She has acted as Athlete Representative for five terms, taking care of many tasks so that other Executive members can do more to develop the Local.
Conway is always first to volunteer when it comes to sending out cards to her fellow athletes on behalf of her Local. Whether it is a get-well, thank-you, graduation, congratulations, or condolence card, Conway will write a personalized note to the athlete.
This busy athlete also generously gives her time to the annual JYSK and Staples Canada campaigns that raise vital funds and awareness for Special Olympics. Conway is responsible for coordinating the critical involvement of athletes in the campaigns.
Conway has also made an impact in her community as Athlete Speaker for more than eight years. She speaks annually at the Special Olympics BC Charity Golf Classic hosted by Dick Harris in Prince George, addressing sponsors and guests who help make the tournament such a success.
She has also spoken at recruitment events telling potential athletes how Special Olympics has affected her personally.
We so much appreciate what Conway has done for Special Olympics, and we wish to congratulate her on this award!
Special Olympics BC sincerely recognizes all of the nominees for the 2014 Spirit of Sport Award:
Man Lok Au (SOBC – Campbell River)
Yoshi Doldersum (SOBC – Chilliwack)
Scott Jonasson (SOBC – Quesnel)
Matthew Lai (SOBC – Richmond)
Glenda Melnychuk (SOBC – Quesnel)
Roxanna Podrasky (SOBC – Kimberley/Cranbrook)
Kelsey Thomson (SOBC – Richmond)