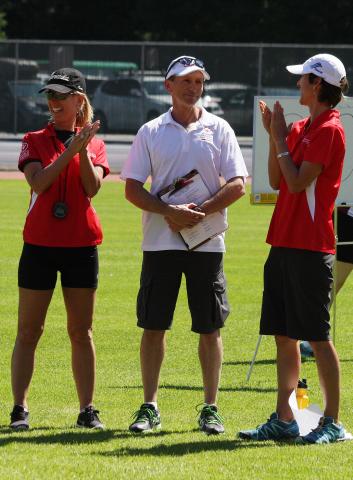 Known for his exceptional sport experience, his outstanding rapport with his athletes, and his dedicated involvement with the Special Olympics organization for more than 25 years, Special Olympics BC – Abbotsford coach Tom Norton was the deserving winner of SOBC's 2015 Howard Carter Award.
An RCMP member, Norton first got involved in the movement in 1990 as part of the Law Enforcement Torch Run, and has been an active and dedicated Special Olympics coach for the last 10 years. As an SOBC – Abbotsford athletics coach, he brings to bear more than 30 years of practical experience in the sport, as a former competitive athlete and coach.
Norton is very technically knowledgeable but also deeply athlete-centred in his approach. Working with SOBC athletes, Norton translates his experience and knowledge into individual plans and specialized instruction that genuinely empowers the athletes and sees them soar both in their sport achievements and their confidence.
Norton is an outstanding coach both at the local level and as a member of nine Special Olympics regional and provincial teams (for both SO and generic Games), two Special Olympics national teams (2011 and 2015), and a local training coach for athletes going to Special Olympics Provincial and National Games.
In addition to coaching track and field and Club Fit with SOBC – Abbotsford, Norton is also responsible for the Local's Performance Program athletes, with whom he works to develop and implement yearly training programs. He simplifies complex training protocols and helps the athletes build independent training plans.
In addition to his direct work with athletes, Norton also actively seeks to build competitions and develop relationships with generic athletes and throughout the Abbotsford sport community, helping raise the profile of Special Olympics programs, coaches, volunteers, and, most of all, athletes. He is also a strong recruiter and mentor to promising new young coaches, getting them hooked on Special Olympics as part of his dedication to ensuring our athletes get quality and experienced coaching.
Norton's nominators say he "lives by his motto 'helping you help yourself,' which fosters an environment of empowerment for all involved in Special Olympics."
"Always being firm, fair, decisive, and most importantly instilling the desire to excel, he leads by example and doesn't ask from his athletes what he doesn't ask of himself. … His insight and patience to orchestrate guaranteed success for an athlete not only builds their confidence and self-esteem but provides a huge sense of accomplishment," his nominators wrote.
Congratulations, Tom, and thank you for all that you do!
SOBC salutes all the deserving nominees for the 2015 Howard Carter Award:
Alan Prough (SOBC – Trail)
Ben Postmus (SOBC – Trail)
Garth Vickers (SOBC – Kelowna)
George Maclagan (SOBC – Campbell River)
Jessica Chapelski (SOBC – Vancouver)
Michael Blaschuk (SOBC – Surrey)
Nikki Apps (SOBC – Comox Valley)