An inspiring and interactive gala celebrating the power of sport and the human spirit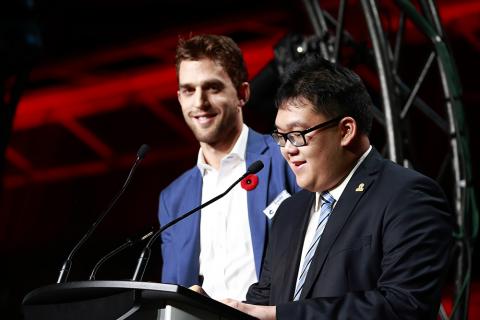 Event details
When: October 4
Where: Fairmont Hotel Vancouver
About the Sports Celebrities Festival
The Sports Celebrities Festival presented by Wheaton Precious Metals is an inspiring and interactive gala celebrating the power of sport and the human spirit.
Funds raised help to empower athletes with intellectual disabilities to gain confidence, acceptance, and pride through sport, and also provide vital opportunities, resources, and care to children and families throughout B.C.
Event highlights:
Meet and mingle with local sports heroes, including the entire Canucks roster, Special Olympics athletes, and more
Challenge Canucks players in great games such as table hockey
Photos with your favourite Canuck
Silent and live auctions
Live entertainment
Wheaton Precious Metals is the generous Presenting Sponsor of this stellar event. We are grateful for the ongoing support of Wheaton Precious Metals and Major Sponsors Canaccord Genuity and the Macquarie Group Foundation. 
Ways to get involved
Please click here to view all sponsorship opportunities
If you would like to donate an item to the auction, please contact Charlotte Taylor by email or by phone at 604-737-3056.
Tables for the event start at $3,000. If you're interested in purchasing a table to attend the event, please contact Christina Hadley by email or by calling 604-737-3073.
For more information
Please contact Christina Hadley by email or by phone at 604-737-3073.
Our Generous Sponsors
Bank Sponsor
Heads and Tails Sponsor
Stories
2017
Inspiring speeches by Special Olympics athlete Alex Pang and Vancouver Canucks forward Brandon Sutter:
Breakfast Television Vancouver
2016
Frances Collison and Brandon Sutter wowing the crowd:
Breakfast Television Vancouver
2015
Canucks TV:
Breakfast Television Vancouver
2014
Canucks TV:
2013
Watch Chris Higgins and SOBC – Campbell River athlete Bryan Jorgensen speak at the 2013 SCF: