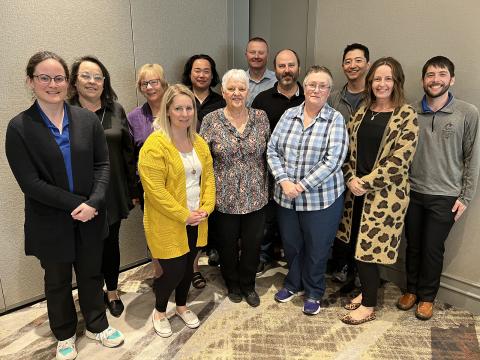 Special Olympics BC's Leadership Council provides vital guidance for our organization and movement, and SOBC benefits significantly from the efforts of these valued volunteers.
Comprised of the Regional Coordinators representing the eight SOBC Regions and respected leaders in the SOBC sport world, the council serves as the link between community and regional programs and the Board of Directors of Special Olympics BC. This group plays an important role in helping chart the course of SOBC sport program development, strategic plans, policies, and resources.
The Leadership Council plays an essential role in creating Special Olympics BC policies. Policies can be created through issues brought forward by members from the local level speaking to their Regional Coordinators. Regional Coordinators bring the concepts to the Leadership Council for deliberations. Out of those discussions, the Leadership Council can recommend the creation of policies, which must be approved by the Board of Directors.
If you are an SOBC athlete, coach, or volunteer who would like to raise an issue, please contact your Regional Coordinator. If you do not have their direct contact details, please contact your Region's Community Development Coordinator or info@specialolympics.bc.ca for assistance.
Leadership Chair
Regional Coordinators
Members at Large
Latest Leadership Council news