Thankful to the people throughout our province who are leading the charge for respecting and empowering people of all abilities!
Sincere thanks to everyone who shared the below Champions of Inclusion nominations in the 2021 Special Olympics Global Week of Inclusion!
Sports Celebrities
When high-profile supporters stand up as champions of our athletes and movement, it opens hearts and minds to the abilities of individuals with intellectual disabilities, helping the world see and value them the way they should!
Vancouver Whitecaps FC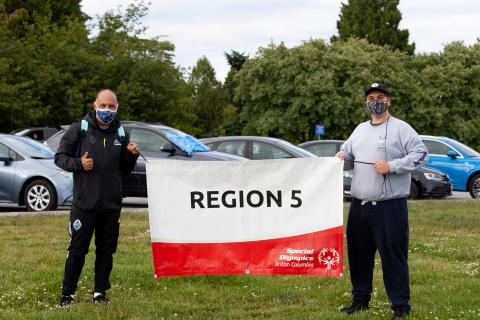 Vancouver Whitecaps FC have supported Special Olympics athletes and programs in a wide variety of ways throughout the club's history, both in MLS and for many years prior. Whitecaps leaders and players have given their time to help Special Olympics BC athletes and coaches in sport opportunities like provincial team training camps. 
The Whitecaps have featured Special Olympics BC as a match partner, creating important awareness about the movement and spotlighting the abilities of Special Olympics athletes. Whitecaps leaders and players have provided vital support for fundraising events for Special Olympics BC provincially and in local communities. Special Olympics BC is so grateful to Carl Valentine for serving as an Honorary Coach in the SOBC Provincial Challenge Games (read more below).
In 2021, SOBC and the Whitecaps teamed up for the CF Montreal Vancouver Whitecaps FC Special Olympics Play Unified Challenge! 
Learn more about the Whitecaps and all of SOBC's valued Provincial Partners who champion inclusion
SOBC Challenge Games Honorary Coaches
We're so grateful to the provincial sport celebrities who generously stepped forward to support the Special Olympics BC Provincial Challenge Games! By serving as Honorary Coaches, they motivated and supported the Challenge Games competitors, and they helped spotlight Special Olympics and inclusion. We're so grateful for the support of Challenge Games Honorary Head Coach Rick Campbell of the BC Lions, and all the Regional Honorary Coaches!
Meet the Challenge Games Honorary Coaches 
SOBC Coaches and Volunteers
Hugest thanks to the Special Olympics BC volunteers who create inclusion throughout our province. They empower Special Olympics athletes. They celebrate all abilities. They inspire their communities!
Kalyn Head, SOBC coach in Abbotsford and Chilliwack
Kalyn is unreal. She trained for months to run 100 kilometres on her birthday, July 23, in order to raise funds for Special Olympics BC! Kalyn has been a Special Olympics coach for almost six years, and says "it holds a very large part of my heart." She has helped coach SOBC – Chilliwack's basketball, floor hockey, swimming, soccer, and softball teams, and SOBC – Abbotsford's track and field and Club Fit programs. She also ran SOBC – Abbotsford's Virtual Fit Families & Friends program to create opportunities during the pandemic. 
"Special Olympics athletes have taught me so much about following your dreams and working hard to reach your goals. They are some of the most thoughtful, encouraging and optimistic individuals I have ever met, which is why I want to help them! I have seen firsthand the opportunities that Special Olympics gives to individuals with intellectual disabilities to be included in sport and the community."

-Kalyn Head, SOBC coach
Learn more and donate to Kalyn's Birthday Marathon for SOBC
Watch Kailyn and Whitecaps FC legend Carl Valentine talking inclusion on SOBC's July 7 SuperLive
Cst. Lisa Bruschetta, Saanich Police, BC Law Enforcement Torch Run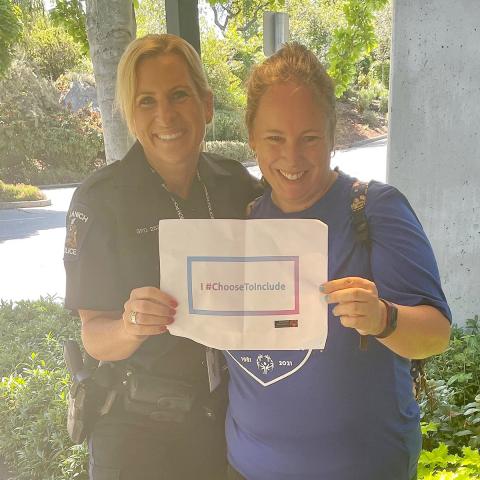 Champions of Inclusion always go above and beyond to bring inclusion, fun, positivity and motivation into our communities. There is no one more deserving of this title than Lisa. Officer Lisa (as she is known to many of our Victoria athletes) is always ready to jump in and support our athletes and be their cheerleader. She is always front and centre to help in our fundraising efforts such as Polar Plunge and LETR. She always makes time to pop into our Zoom Room to celebrate our athletes.
Her words of wisdom and guidance have given our athletes inspiration to not only better themselves in sport - but in life. She leads by example and is such an important factor in so many lives.
Victoria athlete Sheenagh has this to say of Lisa: "Lisa is an awesome friend. She included me on the team for the Polar Plunge and the Torch Run. She calls me up for coffee, even though she's busy with her police work. She's been a supporter of Special Olympics BC – Victoria for a number of years."
Lisa's support of our athletes and how she always finds ways to include Special Olympics is second to none. Lisa is our own Champion of Inclusion for Victoria. Thank you for all that you do! -Nominated by Kailee Bowman, SOBC – Victoria Head Coach Coordinator
Sandra Schuffert, SOBC – Smithers coach and parent
Because she is the very best, she does a lot of stuff, like coaching all the sports that we had during COVID, and pushing us hard. She made a program at work to have all teens volunteer. She invited all the young athletes. She always includes because she thinks about it. -Nominated by Torben Schuffert, accomplished athlete, Region 7 representative on the SOBC Athlete Input Council, and Sandra's son
SOBC Award Winners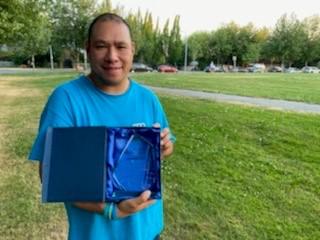 The athletes nominated for Special Olympics BC's Spirit of Sport Award are known for bringing people together – both within Special Olympics and throughout their whole communities. SOBC – Richmond athlete Vincent Li, the 2021 Spirit of Sport Award winner, is a dedicated and passionate athlete, and is exceptionally strong at connecting and motivating people. 
Vincent can always be counted on to contact fellow athletes to encourage them to get involved with different initiatives. He leads by example, always going above and beyond himself, and with his personal touch. He also makes Special Olympics well recognized and celebrated all over Richmond. Community leaders throughout government, law enforcement, and civil service know to expect Vincent in their offices when important Special Olympics initiatives are happening. They happily join him in promotional pictures and videos to help spotlight Special Olympics athletes and events!
Read about Vincent and SOBC award winners and nominees
SOBC Provincial Partners
Special Olympics BC's provincial sponsors and event partners are Champions of Inclusion! Their ongoing support helps enrich the lives of more than 5,200 SOBC athletes across our province. They celebrate and spotlight the abilities of Special Olympics athletes, leading by example and creating a ripple effect for inclusion and respect.
Wheaton Precious Metals is a longtime sponsor and a deserving member of the SOBC Hall of Fame. They are genuinely committed to the Special Olympics movement, and they regularly go above and beyond to support athletes and programs. During the pandemic, their inspiring leadership and generosity were especially important. 
Learn more about Wheaton Precious Metals
Meet all of SOBC's valued Provincial Partners who champion inclusion
SOBC Athlete Leaders
Special Olympics athlete leaders say that inclusion means a world full of possibilities for all – a better world for everyone! We're so grateful to the Special Olympics BC athlete leaders who are building an inclusive world. 
Learn more about SOBC Athlete Leadership programs 
Read the Inclusion story by SOBC Athlete Reporters
The Next Generation
In the Special Olympics BC Youth Engagement Project, volunteers ages 16 to 29 address the need for greater inclusion and respect for people with intellectual disabilities across B.C. Participants create resources, support, and inclusion for people with intellectual disabilities throughout the province. Their sport and awareness initiatives lead to many positive benefits in their communities and province-wide. The 2021-22 Youth Engagement Project kicked off on July 24, when the new changemakers came together for their virtual kickoff summit!
The SOBC Youth Engagement Project is funded by the Government of Canada under the Canada Service Corps program.