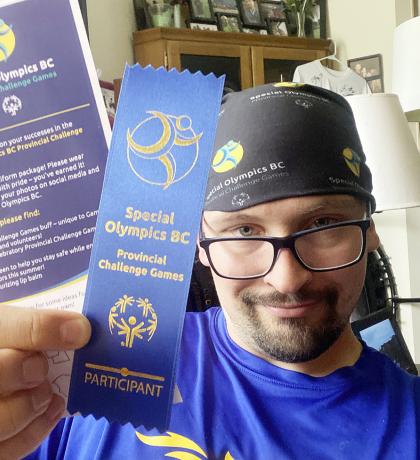 The Special Olympics BC Provincial Challenge Games were a huge success, thanks to the determination and spirit shown by about 1,000 athletes and volunteers from all over the province! 
From May 1 to June 18, the Challenge Games athletes completed 49 days of at-home challenges including sport training sessions, workouts, and wellness activities. They showed remarkable dedication as well as creativity in the range of ways they stayed active. They made their Regions, Locals, schools, and province very proud!
They had inspiring support and motivation from their fellow athletes and dedicated volunteers in their training groups, Regional teams, and Locals. There was incredible sportsmanship throughout the province as the athletes and volunteers cheered each other on!
They also benefitted from the encouragement from celebrity supporters including:
Honorary Head Coach Rick Campbell, BC Lions Head Coach
Region 1 Honorary Coach Henrik Sedin, Vancouver Canucks icon
Region 2 Honorary Coach Emily Zurrer, two-time Canadian soccer Olympian
Region 3 Honorary Coach Darcy Rota, Vancouver Canucks legend
Region 4 Honorary Coach Lemar Durant, BC Lions wide receiver
Region 5 Honorary Coach Carl Valentine, Vancouver Whitecaps FC great
Region 6 Honorary Coach Bernie Pascall, legendary broadcaster
Regions 7 & 8 Honorary Coach Daniel Sedin, Vancouver Canucks icon
Watch highlights and the cheers from supporters in the Challenge Games Closing Ceremony!
Click here to watch the Closing Ceremony 
Click here for more Challenge Games photos and videos
Huge congratulations and thanks to the all the inspiring participants! Please check out the below stories by SOBC Athlete Reporters, and a few insights from other participants.
Athlete Reporters
Kerri Lipsack
The Challenge Games are over and that makes me sad, but also happy because I worked very hard on my workouts, biking, drinking water, and eating healthy.
I was active by riding my bike and working out. 
The most challenging part was doing all the challenges, but I did it.
My favorite part was the working out. Because I really didn't appreciate it until I actually started doing my workout every day, and now look – I'm on 112 of my workouts!
Jake Miller
Miranda Orth
Please click here for Miranda's full report
Roy Stephens
Please click here for Roy's full report 
More comments from competitors and supporters – thank you all!
"I got pushed to do better and hope I pushed someone else too."
"I think it was great that we got to participate in this, and am proud of everyone that participated in it. Job well done everyone!"
"I enjoyed the SOBC Challenge Games because it allowed me to keep fit and I was able to keep in touch with fellow athletes socially distanced and virtually."
"I liked that I was able to connect with my SOBC friends and teammates because I haven't been able to see them in a long time. Thank you for organizing and putting it together so that we could have something exciting this year."
Liked "staying active during the pandemic. Helped me stay fit and in shape for when the sports start up again. Also trying new things."
"It is so awesome to be a part of Special O"
"This was fun and memorable. I lost 10lbs during this challenge! Thank you for making this a fun event."
"So proud of all the athletes out there! It doesn't matter what place you came in – great job everyone ??"
"I have the deepest respect for the commitment and hard work the participants, coaches, parents and volunteers give to Special Olympics."
"I love Special Olympics"
"It was super fun to do something as a team. It felt like doing the workouts you provided to help us get stronger before we get back to our sports."
"It got me really active and I learned a lot about proper nutrition and proper hydration. It was great to do the weekly check in with my group. We named our team "The BOBS" – it stands for "Being Our Best Selves." I also really like the Tuesday workouts that the athletes put together. I did those with my dad. … I just really want to thank those that put their personal time towards activities. It must have been a lot of work. Thank you all very much."
"I liked that people without a computer could also be part of the Games, because I have a computer and my friend does not and we both did the Games."
"I liked all the challenges because it kept me active."
"What I liked about it is that everyone was being so active and having fun. It was fun seeing everyone doing different stuff for being active."
What's next
Join us for the #SOBCSuperSummer Wellness Challenge! Let's stay active together to be ready for the next sport season!
This eight-week calendar includes:
Daily workouts and wellness challenges
Trainer Tuesday Facebook Live workouts weekly July 6 to August 24
Chances to win prize packs
Joining the SOBC Wellness Challenges Facebook Group to share encouragement and motivation