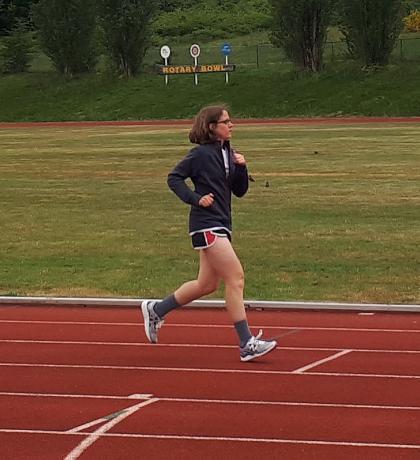 Miranda Orth is a dedicated Special Olympics BC Athlete Reporter and Nanaimo athlete. She worked hard throughout the SOBC Provincial Challenge Games and filed this report!
Special Olympics BC recently had a sports event called the Provincial Challenge Games from May 1 to June 18. Athletes along with coaches and volunteers from Regions 1 to Region 8 participated and worked hard to get points! Everyone also got to take pictures and videos of their healthy meals and workouts daily! The event was a way people could be active and come together with chatting virtually with each other about the Games.
The Provincial Games Challenge began with the virtual opening ceremony on April 29 and we got our May and June calendars from our Special Olympics website to do the Games competition. Region 6 (Vancouver Island) was competing against the other regions involved. We also had the Virtual Law Enforcement Torch Run for Special Olympics BC from June 7 to 20 where people can register and write down the distance in kilometres of how far they ran or walked.
For the weekly results of Region 6, they had a strong start and came in first place in week 1 at 52840 points! After that, the region had a few drops in the results, so everyone in the region worked hard to get back up. In week 2, Region 6 came in fifth place at 56837 points, but the region came up in week 3 at fourth place sitting at 62899 points. However, the region then had another drop for two weeks straight. In week 4, we were sitting at sixth place with 59733 points and sixth place again in week 5 with 62963 points. Despite those setbacks after week 1, I'm sure that Region 6 will finish strong! 
A Region 6 athlete, Matthew Basso from Campbell River, said, "I really enjoyed the Provincial Challenge Games. My favourite part was the online workout training on Tuesdays and Thursdays." Matthew says he raised money for SOBC – Campbell River during the Virtual Law Enforcement Torch Run and he raised $595, which was a big amount in the early days of this year's LETR.
My thought about training and competing in the Challenge Games is that it's hard work especially when you're mostly connecting virtually and knowing where to search on computer for resources about nutrition or activity ideas to do based on challenges athletes had on the monthly calendars. Fitness for competition and training is important and so is sleeping well and eating well. Mental health is a way of staying focused on positive self-talk and thinking positive things of yourself for the event, so you can keep check of how focused you felt on your goal during the competition, staying motivated to do well. Even if your Region didn't come in first place on the weekly regional leaderboard every week, always try to be at the top with your personal best effort! 
The virtual closing ceremony was on June 23 for awards and on June 24 we had the virtual closing dance party!
Find more Challenge Games info
About SOBC Athlete Reporters
SOBC Athlete Reporters have completed training on storytelling, technology use, and social media in order to help share Special Olympics voices and stories. This SOBC Athlete Leadership course was created in 2018 by SOBC – Victoria volunteers and professional journalists Andrea Boyes and Tess van Straaten. Miranda completed her training in the December 2020 virtual workshop.