Special Olympics BC recognizes how important it is that leadership comes from within.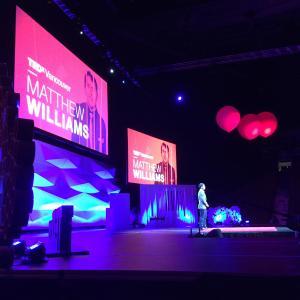 We create the social space that allows athletes to form a strong and lasting community and feel empowered to speak out on behalf of their peers and themselves. Part of our job is to encourage SOBC athletes to take part in leadership training programs so they can have a voice within their own communities, and become representatives of Special Olympics in B.C., Canada and all over the world.
Through SOBC Athlete Leadership programs, athletes develop the skills and abilities to take leadership positions in a number of roles including public speaking, sitting on Local Committees, and assisting as fundraising and program volunteers. These programs are proven to have a lasting benefit to participants by increasing confidence and self-esteem as well as providing input and insight into athlete issues – a valuable resource to Special Olympics BC.
There are many ways that Special Olympics BC athletes can get involved with public speaking and increase their self-confidence. Our Athlete Leadership programs include:
Athlete Speakers Bureau sessions
Athletes as Program Mentors workshops
Athlete Congress/Governance
To learn more about workshops taking place in your community, contact SOBC's Michelle Cruickshank by email or by phone at 250-208-5402.
Please click here
 to watch SOBC – Langley athlete Matt Williams, a Special Olympics International Board Member and Athlete Leadership program participant, deliver an inspiring TEDxVancouver talk!
SOBC – Vancouver volunteer Anita on Athlete Leadership programs:
Learn more