Special Olympics BC recognizes how important it is that leadership comes from within.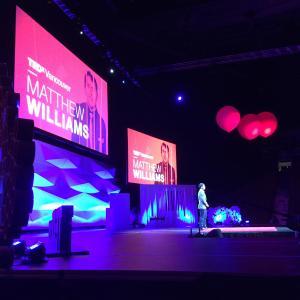 We create the social space that allows athletes to form a strong and lasting community and feel empowered to speak out on behalf of their peers and themselves. Part of our job is to encourage SOBC athletes to take part in leadership training programs so they can have a voice within their own communities, and become representatives of Special Olympics in B.C., Canada and all over the world.
Through Special Olympics BC Athlete Leadership programs, athletes develop the skills and abilities to take on a range of leadership roles including public speaking, participating on Local Committees and Athlete Input Councils, and assisting as fundraising and program volunteers. 
These programs are proven to have a lasting benefit to participants by increasing confidence and self-esteem, and a lasting benefit to Special Olympics as these athlete leaders provide invaluable feedback and insights.
There are many ways that Special Olympics BC athletes can get involved with public speaking and increase their self-confidence. Our Athlete Leadership programs include:
Athlete Speakers Bureau sessions
Athletes as Program Mentors workshops
Athlete Input Council (formerly Athlete Congress/Governance)
Health Hero and Health Messenger training
Athlete Reporter training
And more!
Athletes and volunteer peer mentors are invited to get involved by joining the
SOBC Athlete Leadership Academy
!
Please click here
for all the details.
To learn more about Athlete Leadership and engage local athlete leaders, contact SOBC's Chelsea Rogers by email or by phone at 604-802-4226.
SOBC athlete leaders are active in a wide range of roles all over the province, country, and planet, providing important and inspiring athlete perspectives.
SOBC athlete leaders in action
SOBC – Campbell River athlete Ashley Adie currently serves on the SOBC Board of Directors and Leadership Council. Read more about Ashley
The SOBC Athlete Input Council has representatives from Regions around the province. Meet the SOBC Athlete Input Council
SOBC – Surrey athlete Susan Wang currently serves on the Special Olympics Canada Athlete Leadership Council. 
SOBC – Langley athlete Matthew Williams participated in our province's Athlete Leadership programs and went on to serve as a Special Olympics Sargent Shriver Global Messenger in the 2011 to 2014 cohort, as the Chair of the Special Olympics Global Athlete Congress from 2010 to 2018, and as a Special Olympics International Board Member. In 2015, he delivered a TEDxVancouver talk that drew two standing ovations from the crowd of thousands at Rogers Arena and has been watched more than 1.1 million times online. 
Find more SOBC Athlete Leadership news
Read stories from SOBC Athlete Reporters
See what SOBC Health Messengers have been up to
SOBC – Vancouver volunteer Anita on Athlete Leadership programs
Learn more