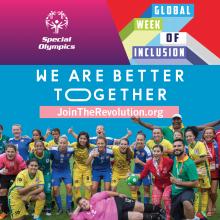 The Special Olympics Global Week of Inclusion (July 15 to 20) was a celebration of how we are better together, culminating in the second annual Special Olympics Global Day of Inclusion on July 20.
The week was an opportunity to celebrate how far we have come in terms of opening hearts and minds and changing attitudes towards individuals with intellectual disabilities. 
It was a chance to turn the spotlight on the positive outcomes observed when people with and without intellectual disabilities are able to work, play, and lead together.
It was also a reminder that we all need to keep working together to promote and ensure true inclusion in our communities.
By playing and leading together, we are creating an inclusive and welcoming world for all and ending the discrimination faced by individuals with intellectual disabilities.
Show the world we are better together. #ChooseToInclude all year round!
#INCLUSIONREVOLUTION
Special Olympics athletes know the pain of exclusion far too well, but together we have the power to change the future for the next generation. In the Global Week of Inclusion, please click here to take the #InclusionRevolution pledge.
By playing together, we quickly build bridges to understanding each other. Please click here to learn how UBC School of Kinesiology student Nikol Grishin teamed up with Special Olympics BC to bring SOBC athletes into elementary schools to share their love of sport and open hearts and minds.
Through inclusion, youth are learning valuable life skills and changing the world. We are so excited to announce the inspiring participants in this year's Special Olympics BC Youth Engagement Project. Welcome to the #UnifiedGeneration! 
Tim Hortons
On July 20, supporters nationwide enjoyed a delicious way to make a difference by stopping into their local Tim Hortons restaurant to enjoy a limited-edition Special Olympics donut created by Ontario athlete Tori Ranson. All proceeds from the donut will empower children, youth, and adults with intellectual disabilities participating in year-round Special Olympics programs and igniting inclusion across Canada. Learn more about the donut and Special Olympics Canada's photo challenge at www.dayofinclusion.ca
Watch Special Olympics BC athlete and Director Susan Wang with Travis Lulay, retired BC Lions quarterback and longtime SOBC ambassador, talking about the Day of Inclusion on Breakfast Television Vancouver
Watch Susan and Olympian Roz Groenewoud talking sport and inclusion with CTV Morning Live