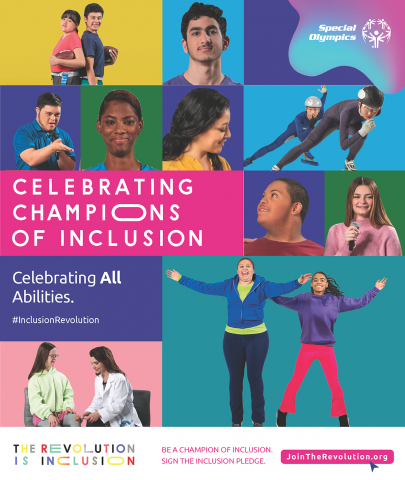 The Special Olympics Global Week of Inclusion is coming up on July 20 to 26! This will be an inspiring opportunity to celebrate how we #ChooseToInclude together, and invite everyone to join us in building a joyful, welcoming world for all.
In the Special Olympics Global Week of Inclusion, we will welcome everyone to join our joyful revolution for inclusion, which matters now more than ever. And we hope to inspire change by recognizing some of the many champions who always #ChooseToInclude and celebrate all abilities.
Stay tuned to Special Olympics BC's channels for stories and actions to share with everyone who wants to help change the world!
Nominate Champions of Inclusion
Who do you know who is leading the charge for respecting and empowering people of all abilities in sports, in schools, in workplaces, in government, in health, in the community, everywhere?
Please nominate the champions you know who are breaking down barriers and building a more just and joyful world for all of us!
Stories you submit will be considered for sharing on SOBC's website, potential media stories, and social media platforms during the Special Olympics Global Week of Inclusion, July 20 to 26, 2020.
To nominate a champion of inclusion, simply send an email to megan@specialolympics.bc.ca with:
The name of your Champion of Inclusion
2-3 sentences on why you think they are a Champion of Inclusion
Your name and community
(Photos welcome but not mandatory)
Kindly submit nominations by July 13, 2020.
We can't wait to meet more champions!
#InclusionRevolution
Please click here to make your Inclusion Revolution pledge