Be a Champion of Inclusion and #ChooseToInclude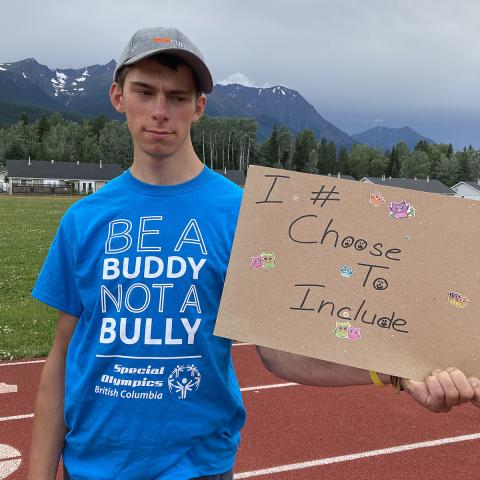 Too many Special Olympics athletes knew the pain of isolation and exclusion long before the COVID-19 pandemic. Canadians with intellectual disabilities are still too often left out – on playgrounds, from the workforce, from conversations. Together, we have the power to change the future for all.
From July 19 to 25, 2021, the Special Olympics Global Week of Inclusion inspired actions for inclusion while celebrating champions who always #ChooseToInclude.
Now more than ever, we need to come together for inclusion. It takes all of us coming together to build a truly inclusive world where no one is left behind because of their disability, ethnicity, age, religion, or gender identity.
Year-round, we can challenge everyone to #ChooseToInclude and show the world we are better together.
Champions of Inclusion
Join us in #CelebratingChampions of Inclusion!
Read about 2021 Champions of Inclusion
Read insights on inclusion from SOBC Athlete Reporters
Watch our 2021 Facebook Live show with Champions of Inclusion
Pledge to Include
The pandemic has highlighted the pain of isolation and the power of inclusion. Help create a better future for everyone – join us and pledge to be a Champion of Inclusion!
Stay Fit Alongside Athletes
Everyone can accept the challenge to join Special Olympics BC athletes completing our calendars of daily at-home workouts and wellness activities!
Share Your #ChooseToInclude Spirit
Congratulations to Special Olympics BC – Smithers athlete Torben Schuffert, the Region 7 representative on the SOBC Athlete Input Council, winner of a $50 Tim Hortons gift card from SOBC's Global Week of Inclusion #ChooseToInclude photo contest!
Champions of inclusion can show their support anytime! You can make your own "I #ChooseToInclude" sign – feel free to get creative! Or you can use one of ours:
Learn More
Check out Special Olympics BC's social media channels for stories and actions to share with everyone who wants to help change the world!
Meet SOBC Champions of Inclusion nominated in 2020
Read more about the 2020 Special Olympics Week of Inclusion in B.C.
Please click here for Special Olympics International stories of inclusion.
If you have any questions or would like more resources to help change the game for inclusion, please contact SOBC Communications Manager Megan Pollock by email or by phone at 604-737-3077.
Conversations of Inclusion
Special Olympics has been working to rededicate our efforts to the unfinished business of equity, diversity, and inclusion throughout our movement. Through a 2020 series called Conversations of Inclusion, we learned from the experiences of athletes and community members. Please click here to find the posts and comments.