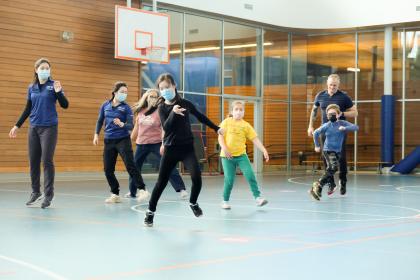 The FUNdamentals program is a continuation of the Active Start program for children with intellectual disabilities between the ages of seven and 11, with the skills transitioning from basic movement skills to basic sport skills. The family-centred program provides children with a more in-depth introduction to sport-related motor skills along with training and competition, while maintaining an atmosphere of fun and meaningful interaction.
The 12-week program introduces the sports of soccer, softball, basketball, and track and field. It provides children with the opportunity to learn and practice the sport skills necessary for participants to later move into community or traditional Special Olympics programs.
The FUNdamentals program also introduces basic nutrition information to both parents and children through a series of fun activities at the conclusion of each session.
The athletes-in-training who delight in their Active Start and FUNdamentals programs can take their sports skills to the next level by participating SOBC's School Sport programs - find out more!
To find out more
Please contact Amy Gibb, SOBC Youth Development Coordinator
Email: agibb@specialolympics.bc.ca 
Phone: 250-252-0515