We're so thankful to the people throughout our province who are leading the charge for respecting and empowering people of all abilities in sports, in schools, in workplaces, in government, in health, in the community, everywhere!
Sincere thanks to everyone who shared the below Champions of Inclusion nominations in the 2020 Special Olympics Global Week of Inclusion! Please also visit our Awards page to be inspired by SOBC's award winners.
Vancouver Canucks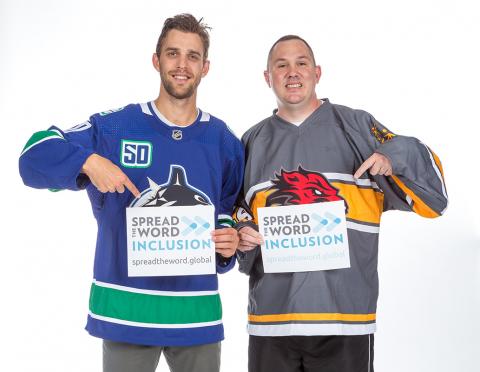 When high-profile supporters stand up as champions of our athletes and movement, it opens hearts and minds to the abilities of individuals with intellectual disabilities, helping the world see and value them the way they should. The Vancouver Canucks make a significant difference as champions of inclusion and respect for Special Olympics athletes. They generously help SOBC with their significant full-team participation in the annual Sports Celebrities Festival presented by Wheaton Precious Metals, which is a significant fundraiser for SOBC and the Canucks for Kids Fund. Their generosity toward Special Olympics continues year-round, as they provide ticket donations so athletes and coaches can attend games, offer assistance from their players and coaching staff for training and development events, and give SOBC access to autographed memorabilia that creates key fundraising opportunities for SOBC provincially and at the local level. The Canucks never hesitate to support Special Olympics athletes by cheering for them and raising awareness in their online channels, sharing everything from SOBC athlete achievements to Spread the Word>>Inclusion messages. In another strong show of inclusion, Canucks staff have generously volunteered to run functional testing sessions for SOBC athletes for five years running, as part of the team's annual Live 2 Give day.
Please click here
to learn more about the Canucks and all of SOBC's valued Provincial Partners who champion inclusion.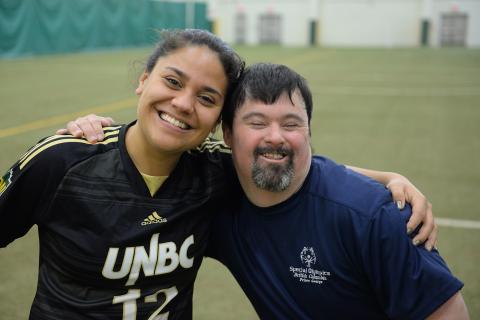 UNBC Timberwolves
The University of Northern British Columbia Timberwolves are genuine supporters and friends of Special Olympics athletes and programs. Over the years, many UNBC basketball and soccer varsity athletes and coaches have come out to join SOBC – Prince George athletes for practices and games, like this 2019 soccer matchup, and they have welcomed SOBC athletes to share the spotlight at their own UNBC games. They have promoted Spread the Word>>Inclusion at UNBC events. The UNBC athletics department shares many anecdotes and images on their social media that highlight the abilities of Special Olympics athletes. The varsity athletes and coaches go out of their way to show genuine friendship from athlete to athlete, like their cheers for Special Olympics Team BC 2020 earlier this year.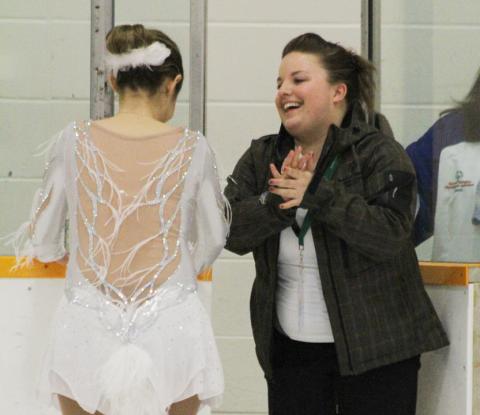 Jessica Chapelski Souza, SOBC – Vancouver figure skating coach
"I feel that Jessica is one of the strongest leaders in paving the way in inclusion. She is always looking for innovative and exciting ways to promote inclusion between Special Olympics and generic figure skating. Jessica is one of the most outgoing and caring individuals I have ever met. She goes above and beyond to make sure that every athlete feels heard and included, and every coach feels a part of the team. She strives to make sure that every person has the best experience possible. Jessica has always made it one of her goals to share her love of skating. When she is at any competition or event, she is always building the bridge between the mainstream skating and Special Olympics communities. Without Jessica, I feel that this would not have progressed as far as it has. She fosters relationships between not only the coaches of the two streams but is a huge advocate in getting the athletes to cheer on each other as 'one.' When Jessica and her athletes are representing their region within generic events, all of the Special Olympics and mainstream athletes and coaches are one team and are constantly supporting each by cheering in the stands or providing support and friendship behind the scenes or during downtime. This has started to filter through to other zones and truly create an environment where our athletes are truly included in every aspect of a mainstream competition, and are recognized for their triumphs and overcoming hardships. By fostering the relationship between mainstream and Special Olympics figure skating, both sides have found each other to be a source of inspiration and driving force to do better. All skaters in B.C. are one and embrace each other in a truly remarkable way, and we have Jessica to thank for helping to pave the way." -Kailee Bowman, SOBC – Victoria coach and Local Committee member
Telemark Nordic Club, Sovereign Lake Nordic Club, and the Okanagan cross country skiing community
In the Okanagan cross country skiing scene, there's a wonderful spirit of inclusion and camaraderie between Special Olympics athletes, coaches, and programs and their peers in the mainstream sport community. A highlight is the encouragement and support of two leading local institutions, Telemark Nordic Club in West Kelowna and Sovereign Lake Nordic Club in Greater Vernon. 
Telemark and Sovereign host local Special Olympics cross country skiing programs, and have been the outstanding venues for numerous Special Olympics BC Games and competitions. Their staff and volunteers go out of their way to support Special Olympics, and to celebrate and promote the many achievements of the Special Olympics athletes and coaches who are valued parts of their communities. In addition, some of the dedicated local Special Olympics BC athletes train with the top-flight mainstream athletes in these noted venues. 
Francis Stanley, SOBC – Kelowna athlete and Special Olympics Team BC 2020 flagbearer and gold medallist, regularly trains with the elite athletes at these venues. They work hard together on snow, roller skis, and dryland training. Francis has turned heads while achieving great success in BC Cup generic racing, in addition to his many accomplishments in Special Olympics, having achieved personal bests and earned World and National Games medals.
Sheenagh Morrison, SOBC – Victoria athlete
"Sheenagh... what is out there that this lady does not do! In addition to being a multi-talented athlete, Sheenagh can be spotted actively participating in public speeches for Special Olympics and beyond, promoting Special Olympics and its positive impact in her and her peers' lives. She is the type to readily jump in to partake in and promote Special Olympics fundraising events, such as Free the Fuzz, the Polar Plunge, and even running for Special Olympics in the GoodLife Fitness Victoria Marathon. Outside of Special Olympics, Sheenagh is an active self advocate through political and self-advocacy groups, promoting acceptance and autonomy for the disability community, and through her employer, who happens to be a national sponsor of Special Olympics! In conclusion, Sheenagh is easily one the most active and inspiring people out there. A vocal and determined force to be reckoned with!" -Ashley Adie, SOBC – Campbell River athlete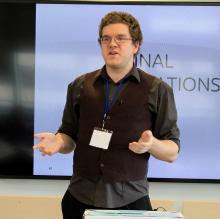 Jake Hooper, SOBC – Comox Valley athlete
Jake is an eloquent representative of our province and country as a member of the Special Olympics Canada Athlete Leadership Council and the Special Olympics North America Leadership Council. He is also an accomplished multi-sport athlete who has medalled at both summer and winter National Games. "I would like to nominate Jake Hooper as he's a very nice person and a good athlete. He's been to the Special Olympics Canada leadership conference and he's a great athlete rep for Special Olympics BC – Comox Valley." -SOBC – Comox Valley athlete
Adam Irwin-Gunn, SOBC – Victoria athlete
"Adam is always striving to make the world a better place. He particularly is passionate about people with different abilities being able to follow their dreams and not face unnecessary barriers. He is a lover of sports and is always cheering for increasing inclusivity so everyone can have their opportunity to play, recreate, and discover their strengths." -Victoria nominator
More about Adam
Matthew Basso, SOBC – Campbell River athlete
"I'm so proud of him. He does a good job with his sports, and he has been to three Provincial Games, two summer and one winter." -Campbell River nominator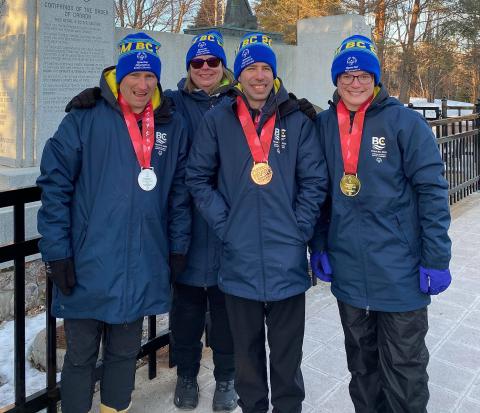 Ashley Adie, SOBC – Campbell River athlete
"I nominate Ashley Adie, a brilliant Special Olympics athlete who participates in multiple sports, works at Thrifty Foods, and volunteers at the farmers market. She is an avid communicator for all of our local athletes and families, and is presently on Facebook promoting the nomination of an athlete, volunteer, or any other variation of "champion of inclusion." She is active on social media and is always looking out for her fellow athletes. I am also proud to call her my daughter." -Shelley James, Campbell River
Lynne Macara, SOBC – Campbell River coach and volunteer
"Whether it be through her dedicated behind the scenes work on the Special Olympics BC – Campbell River Local Committee, or through coaching in rhythmic gymnastics or athletics, Lynne is a gentle yet determined force to be reckoned with. Whether it be through finding successful ways in ensuring gymnasts from beginners to highly experienced Level 2's are engaged and notably progressing each week in their routines (and wowing the crowds and coaches at competition!), or taking care of the paperwork and organizing/"herding" athletes during track season, Lynne is someone who has always dedicated herself to ensuring athletes of all abilities, no matter what, are included and actively engaged. She also partakes in other volunteer positions in more than one other organization, transferring her dedication to ensuring that all are included and actively engaged." -Ashley Adie, SOBC – Campbell River athlete
Maureen Hunter, SOBC – Campbell River Local Coordinator
"To put a really long summary in short, Maureen is absolutely someone who goes above and beyond to make everyone of all athletic abilities feel included and empowered in not just their sport, but in their personal life and work life too. Whether it be at a National Games or a non-qualifying Regional tournament, Maureen can be observed going out of her way with ensuring athletes are properly equipped and hydrated, and encouraging others to get into the spirit with her easily distinguishable loud and enthusiastic cheers, various noisemakers, and fancy banners! She is someone who fiercely advocates for everyone, no matter what their differences or challenges may be, ensuring no one gets left behind or left out at all, in any way shape or form. Outside of Special Olympics, whether through her work, but quite frequently on her own time, Maureen can be seen ensuring that others have what they need to not only be successful, but to thrive, in both their personal and work lives; for example, whether it be by means of breaking down a scenario to help someone solve it themselves, or by offering moral support. In conclusion, Maureen is someone who is looked up to by hundreds, if not more, from her many years of expertise in Special Olympics and in working alongside the disability community." -Ashley Adie, SOBC – Campbell River athlete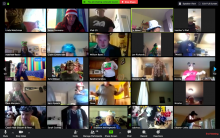 Susan Simmons and Kyle Eriksen, SOBC – Victoria coaches
Since the COVID-19 pandemic hit, Susan and Kyle have been virtually meeting with Special Olympics BC – Victoria athletes every night for an hour on Zoom. They focus on fitness most nights of the week, but then have a fun social night on Sundays planning anything from virtual dance parties to sing-alongs, show-and-tell, or talent shows. "They have gone above and beyond as volunteers for our athletes," said SOBC – Victoria Public Relations Coordinator Andrea Boyes, who nominated the pair. "I want them to be recognized for providing a place for these athletes to be together during this tough time – and to continue to experience the community, connection and friendship Special Olympics offers."
Jim Creighton, SOBC – Campbell River coach
"For the past 10 years at least, Jim has dedicated himself with Special Olympics BC – Campbell River, first as an assistant bowling coach, and later on becoming the 10-pin bowling Head Coach. Jim can be seen (and easily heard!) enthusiastically encouraging athletes and coaches and volunteers to encourage and build one another up; regularly reminding everyone the importance of supporting one another, no matter whether someone scores a turkey or got their first spare, or even if they got a gutter ball, because it's common knowledge that performance will go up if teammates are rooting for each other. Those who know him are familiar with his booming "(someone) got a Turkey!" announcements each time someone scores three in a row. Outside of Special Olympics, Jim is very involved with coordinating public events and concerts in the downtown core, such as the Thursday night Summer Concert Series. He is also the one that does the live introductions, and always has a great and enthusiastic speech to promote which ever charity is on for that event, SOBC – Campbell River being one of the charities, and actively welcomes the public from all walks of life to come down and support them." -Ashley Adie, SOBC – Campbell River athlete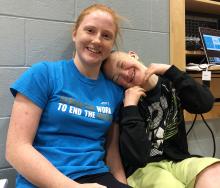 Megan Owens, SOBC – Chilliwack coach and volunteer
Megan is a recent high school graduate and an inspiring champion of Spread the Word>>Inclusion in her community. As a participant in Special Olympics BC's Youth Engagement Project, Megan co-led the successful Inclusion Revolution Sports program that created inclusion between young students and Special Olympics athletes in Chilliwack and Hope. "I felt empowered by the youth that I met, and by the power of inclusion. By sharing my passion for inclusion, I could make a difference," Megan said. In addition to her inclusion programming and advocacy, Megan volunteers with SOBC – Chilliwack as Co-Volunteer Coordinator, coach, and Fit Families & Friends program leader. Megan and Rachel Simes, a teacher in Hope and the co-leader of Inclusion Revolution Sports, also participated in Special Olympics International's Inclusive Youth Leadership Summit in Chicago in 2019, alongside SOBC – Chilliwack athlete Madeleline Kean.
Watch Megan's amazing Chilliwack Week of Inclusion video
Roshan Gosal, SOBC Leadership Council member and youth advocate
Please click here to meet Roshan in Special Olympics Canada's story
SOBC Youth Engagement Project leaders
Carol Yakiwchuk, B.C. Healthy Athletes Special Smiles Clinical Director
Dental hygienist and educator Carol Yakiwchuk is an active advocate for inclusive health, helping change the game in oral health for individuals with intellectual disabilities. Carol has been a Special Olympics Healthy Athletes Clinical Director since 2009, leading Special Smiles screenings, and in her field she has practiced as a clinician, educator, researcher, administrator, and community health dental hygienist. In 2016, Carol became Canada's first winner of the Golisano Health Leadership Award, in recognition of her dedicated volunteer efforts to help combat the significant health disparities faced by individuals with intellectual disabilities. Carol raises awareness among dentists, dental professionals, and students about the health issues facing individuals with intellectual disabilities, and she recruits others to volunteer at SOBC's Healthy Athletes events. All these people return to regular practice better trained to work with individuals with intellectual disabilities. Carol also led the creation of the Lifelong Smiles for Individuals with Intellectual Disabilities course for oral health professionals, a significant tool to help ensure that practitioners in the field are equipped to help people with IDs. Carol has also developed important relationships with sponsors and suppliers to benefit Healthy Athletes events. Currently, Carol is working with the Canadian Society for Disability and Oral Health, and she is involved in international efforts to create pilot programs for virtual Healthy Athletes screenings.
Leanne Dospital, Champions for Inclusive Health Stakeholder Coalition 
Leanne is B.C.'s Advocate for Service Quality, and she is a dedicated member of the Champions for Inclusive Health Stakeholder Coalition. Leanne has worked tirelessly to raise awareness throughout the province about the Coalition and its work to end the unequal health conditions experienced by individuals with intellectual disabilities in B.C. Leanne has also been lending her expertise to the Coalition's Communications Working Group since it was established in 2019. As a direct result of Leanne's advocacy, the Coalition has added new professional members, raised awareness within the public sector, and reached more individuals with intellectual disabilities and their supporters. In her job as the provincial Advocate for Service Quality, Leanne has successfully brought the rights of individuals with intellectual disabilities to the forefront of policy discussions.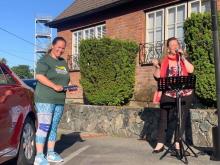 Stephanie Greaves, singer and SOBC supporter
"My friend Stephanie Greaves has been doing some lawn concerts during the pandemic. We became friends six years ago at the Law Enforcement Torch Run Free the Fuzz fundraiser for Special Olympics BC in Victoria, when she was there singing and doing a little fundraiser concert for us. This year during the pandemic she's been including me at all her lawn concerts, by letting me play the jingle bells and singing along to a few songs with her. She also helped me kick off the Virtual Law Enforcement Torch Run for Special Olympics BC; she did it as a fundraiser for SOBC. She is all around a great friend to have. It's been putting smiles on my face because I was starting to feel down that I couldn't swim this year, or do track and field. She made me feel included when she asked me to play the jingle bells. She's simply the best!" -Sheenagh Morrison, SOBC – Victoria athlete
Ingram Mortgage Team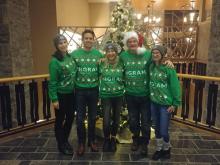 "The Ingram Mortgage Team is my nomination for the Champions of Inclusion. A year and a half ago they were looking for some help with their growing team and Mark (who I had known previously through volunteer work with the Vancouver Giants) asked if I would be interested in an interview. They knew that I had not been previously employed, but they were determined to find a job for me and created a position around my strengths. They accept me for who I am and introduce new tasks to me quite frequently that they know are going to get me out of my comfort zone. I am always included in any events that are going on within the company and they support Special Olympics BC – Surrey with donations throughout the year!" -Kayley Olund, SOBC – Surrey athlete