Special Olympics Team BC 2020 Figure Skating Head Coach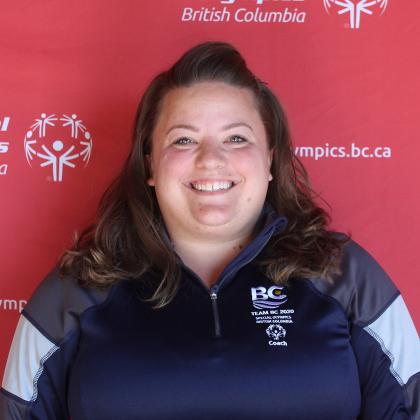 When and how did you get involved with Special Olympics?
I was coaching generic skating, when our SO coordinator asked for help with one athlete "just an hour a week for a couple months." Now, 10 years later... here I am! That athlete was Alex Pang, who I still work with.
Will this be your first Special Olympics Canada Games? If not, which other National Games were you part of and in what role(s)?
Associate Coach - Corner Brook 2016
Associate Coach - St. Albert 2012
What does it mean to you to be part of Special Olympics Team BC 2020?
I am always honoured to be a part of Special Olympics Team BC. It's an amazing experience to be able to represent our province, and to see what an impact this has on our athletes. I have yet to leave any SO Games without tears in my eyes. The empowerment that happens, and accomplishments we bear witness to makes me realize how lucky I am to have stumbled upon this amazing community.
What is/are your goal(s) for these National Games?
My goal is to create a team that supports each other to be their best selves at National Games - both in their sport, and as human beings.
What is your favourite Special Olympics experience to date?
How do I pick one?? I will forever remember my first National Games [in 2012]. Being at [mainstream] Canada Winter Games, where our athletes were amongst generic athletes, will stand out in my memory as an incredibly impactful experience of inclusion for both SO and generic athletes. The memory of seeing Alex compete at World Games will always bring goosebumps, as well as seeing our athletes speak in front of others and be ambassadors of the organization.
What does competing at National Games mean to your athletes? (or, if this is your first National Games, competition in general)
It means the opportunity to be seen for all their abilities, and show all they are capable of in sport and in life.
What storylines are you excited to see develop in your Team BC sport team leading up to the National Games?
I'm excited to see our first-time athletes experience their first nationals, and see our more experienced athletes show what they have learned from all their years of competition.
What would you say about Special Olympics to encourage someone to get involved?
Being involved in Special Olympics will impact your life in ways you could have never predicted.