Special Olympics Team BC 2020 Snowshoeing Head Coach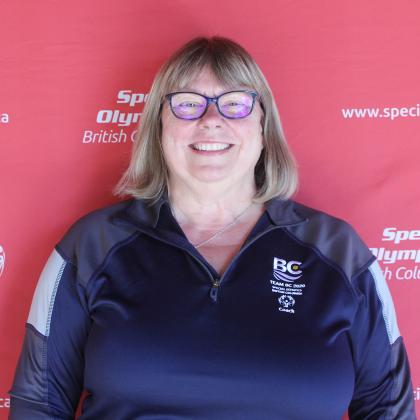 When and how did you get involved with Special Olympics?    
On my very first day of work with the Association for Community Living, my coworker Peggy Fix signed me up for Special Olympics - February 29th 1984. I was on our first Local Committee, I was a swim coach, Volunteer Coordinator, bowling coach, helped with floor hockey, and of course fundraising.
Will this be your first Special Olympics Canada Games? If not, which other National Games were you part of and in what role(s)?  
I believe this will be my ninth National Games. I have been involved in swimming and snowshoeing as both an Associate Coach and a Head Coach.
What does it mean to you to be part of Special Olympics Team BC 2020?    
Each Games is unique. I feel this is an opportunity to share my knowledge with new coaches and athletes as well as learn from the other coaches and athletes. I am very excited about these Games, three snowshoers from Campbell River have earned spots and are very motivated to do their best at these Games. I'm pretty sure these Games will hold countless memorable moments for me personally.
What is/are your goal(s) for these National Games?
To help to develop a team that is supportive and kind to each other. To support our 13 athletes to achieve their personal-best times. 
To bring back 39 personal-best times. To support our four coaches, so they can be the best that they can be, and to have a really great time.
What is your favourite Special Olympics experience to date?
I have a life-time of favourite experiences - watching Paul Aubuchon win a silver medal at the 2003 World Games in swimming - I taught Paul how to swim when he was 11 years old (he is 44 now) and to see him win a world medal was amazing, then to follow this with watching him receive the Special Olympics Canada Male Athlete of the Year award and give a speech when he received the award was a pretty standout moment.
What does competing at National Games mean to your athletes? (or, if this is your first National Games, competition in general)
For our athletes and our coaches, we impress the sense of honour and privilege to be selected to represent our province. To have an opportunity to compete against the rest of Canada is a life-changing experience. "Personal best shared glory" is my personal motto.
What storylines are you excited to see develop in your Team BC sport team leading up to the National Games?     
The level of training that the athletes are currently doing and are willing to do, and their commitment to being the best that that can be for these Games. 
What would you say about Special Olympics to encourage someone to get involved? 
Joining Special Olympics is a life-changing experience, it is a gift you give yourself. It is an opportunity to experience and share in countless life-changing events. Not only is it a opportunity to teach the athletes new sport and life skills, it is also an opportunity to grow and learn personally. I have never met anyone who has regretted joining Special Olympics. And believe me, after 35 years of very active coaching I have met a lot of Special Olympics athletes, coaches, and volunteers. No one has ever said I am sorry I joined.