Special Olympics Team BC 2020: Snowshoeing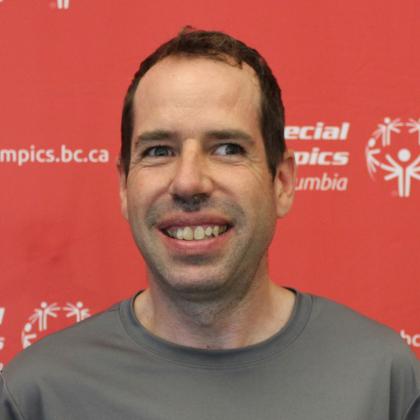 Special Olympics BC Local:
Campbell River
Hometown:
Campbell River
When and how did you get involved with Special Olympics?
1988. I started bowling and swimming with Special Olympics BC - Campbell River.
Will these be your first Special Olympics Canada Games? If not, which other National Games did you compete in, and in what sports?
No. I was at the 1992 and 2004 National Games for snowshoeing, as well as the 1998, 2002, and 2018 National Games for swimming. I also went to the 2003 World Games for swimming.
What were your results in the 2019 Special Olympics BC Winter Games? How did you feel about your performance?
I won gold in the 200m, 400m, 4x100 relay, and one silver. I felt pretty good about my performance.
What does it mean to you to be part of Special Olympics Team BC 2020?
I am extremely proud and excited to be one of Team BC's athletes.
What is your goal for these National Games?
I hope to exceed my personal best times and know I have to work hard.
What does competing at National Games mean to you?
It will be interesting to compete in a new place and meet athletes from all over Canada.
What do you like most about the sport you will compete in at National Games?
It is fun to be outdoors and I love to race.
What is your favourite Special Olympics experience to date?
Being part of Team Canada at the World Games in Ireland.
What would you tell someone about Special Olympics to encourage them to get involved?
You will always be glad you joined Special Olympics because it is fun and keeps you in shape.
What other Special Olympics sports do you participate in?
5-pin bowling, swimming, track and field, and Club Fit.
Please tell us a little bit more about yourself! What else would you like people to know about you?
I was born in Campbell River and have lived there all my life. I have two older brothers, Neil and Graham, who have always supported and encouraged me. I enjoy golfing and hiking. I am also a Vancouver Canucks fan and sometimes my brothers take me to a hockey game. I watch hockey on TV and also like game shows. I work at Quality Foods where I have been employed since 1998.
What is one word you would use to describe yourself? :)
Friendly.