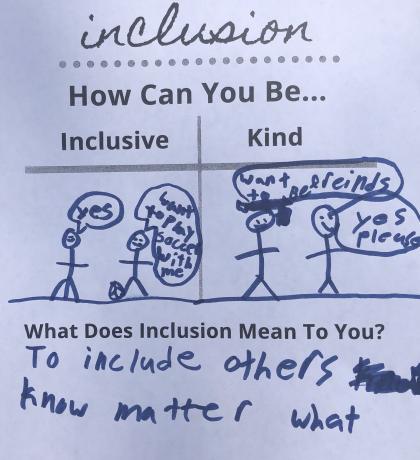 The inspiring members of Special Olympics BC's first Youth Engagement Project opened hearts and minds around the province this winter. With the support of the Government of Canada under the Canada Service Corps, the Youth Engagement Project leaders created and ran their own initiatives to increase inclusion in their communities throughout B.C. 
Their sport and awareness events created so many positive benefits. Throughout their communities, they increased inclusion, changed attitudes about the abilities of individuals with intellectual disabilities, and gave Special Olympics BC athletes opportunities to help lead the way to a better world. They created opportunities for fellow young people to volunteer and learn, and worked with their SOBC Local Committees in their efforts to make a difference. 
We are so proud to know these thoughtful, passionate, interesting young people, and so grateful for all their efforts to create inclusion and awareness of Special Olympics!
The participants in the inaugural SOBC Youth Engagement Project were:
Fraser Valley Region: Anneke Cairnie, Bremiella De Guzman, Megan Owens, James Shi, Rachel Simes, Arshia Uppal
Fraser River-Delta Region: Troy Boucher
Vancouver-Squamish Region: Avery Lane, Pavneet Kalsi 
Vancouver Island Region: Ronak Sheikhi, Angela Wang 
Cariboo-North East Region: Cassandra Thummerer
Cairnie, a Grade 11 student at Langley's Walnut Grove Secondary School, staged a positive and powerful introductory basketball day for Langley and Surrey students with intellectual disabilities. Cairnie, a basketball player herself, had noticed that while her school has a very strong basketball culture, "there weren't really opportunities for students in the exploration program to participate in anything in the schools."
Cairnie envisioned a basketball event to give these students skills and a turn in the spotlight. But during the planning and development process, she encountered people expressing skepticism about her concept and vision. Nevertheless, she persevered.
"I became a lot more confident throughout the course of this project. … I began to fight for other people's rights and have a voice in this," she said. 
Cairnie's event welcomed 40 students with intellectual disabilities from area schools, supported by 20 student volunteers, including many of Cairnie's own basketball teammates. The participants went through basketball training stations to work on fundamental skills, with great encouragement and instruction from the volunteers.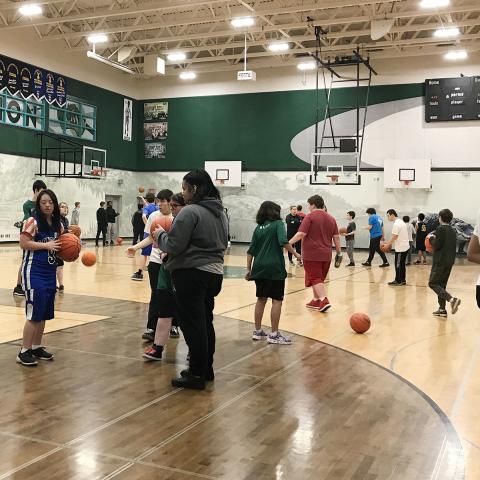 They capped the day with an empowering scrimmage where other students and staff lined the gym to cheer for the players with intellectual disabilities, who took centre stage with their skills. The atmosphere was electric as the gym rang with cheers.
"I was amazed at the atmosphere that was created, and how they [the students with intellectual disabilities] were responding to everything," Cairnie said. "It was awesome to see how they were finally the stars in a way they hadn't gotten to be."
The student volunteers rallied around the players: "It was great to see how everyone rallied together on the day of. Watching the volunteers connecting with the athletes was amazing to see," Cairnie said. And the school staff who came out to watch the event became very supportive, commenting on how great it was to see these athletes playing, when they don't usually get these opportunities.
"They all saw it and said, 'You have to do it again next year,'" Cairnie said. "After they saw the impact it had, they were definitely on board."
Cairnie says she hopes to run the event again next year, and possibly expand into additional sports. 
Owens and Simes partnered to run an inspiring series of sport events in very receptive Chilliwack schools. Their project took on the name Inclusion Revolution Sports from SOBC – Chilliwack athlete and project volunteer Madeleline Kean. 
Building on a model created by UBC student Nikol Grishin, they partnered with local SOBC athletes to run in-school sessions where they offered engaging instruction about inclusion and Special Olympics, followed by SOBC athletes teaching the students soccer, bowling, and bocce. The students completed enlightening worksheets about inclusion, and they all pledged to include by signing soccer and beach balls, which each school kept as a visible demonstration of their commitments to inclusion.
These interactions created important conversations that will have a lasting impact. Working with a team of 14 volunteers comprised of high school students and SOBC – Chiliwack athletes, Owens and Simes ran sessions in five schools over six days, reaching more than 1,300 students and teachers.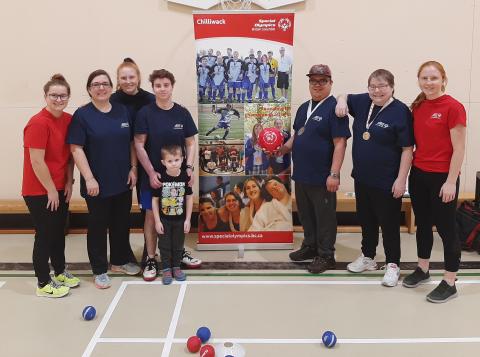 The conversations mattered, and so did the sports. Simes said they encountered a student who usually sits on the sidelines with an educational assistant – for once, she was actually able to participate in the sports they offered, because they showed how the sports could be adapted for her, and she was able to bowl. Simes noted that this interaction helped show this can always be done, expanding inclusion to sport not just in classrooms. 
Owens said her work on the project "definitely impacted me positively. I felt empowered by the youth that I met, and by the power of inclusion. By sharing my passion for inclusion, I could make a difference."
Simes, a teacher in Hope, had also planned to host a school district professional development day dedicated to inclusion, but a snow day cancelled that. Instead, she is hosting ongoing small-group sessions for the teachers in her school.
Through her work on the Youth Engagement Project, she said, "I was able to grow as an educator and an advocate for individuals with intellectual disabilities."
Turn to their @inclusionrevolutionsports Instagram account to be inspired!
More highlights from these inspiring young leaders:
Boucher's multi-sport day camps for individuals with intellectual disabilities, hosted at SFU – one for children, and one for adults – where he and a team of volunteers engaged participants in activities, and also gathered valuable research about health topics, which will inform work for individuals with IDs by SFU and the Champions for Inclusive Health Stakeholder Coalition;
Wang and Sheikhi hosted inclusive sport events in Victoria schools, with Wang educating local elementary-school students through the Inclusion Revolution Sports model, and Sheikhi engaging high school students with two days of inclusive floor hockey events that showcased the skills of SOBC – Victoria athletes and created inclusion;
Thummerer created an engaging Colour Run that raised successfully funds and awareness for Special Olympics BC – Prince George, and will leave a legacy as the Local would like the event to continue in future years; 
De Guzman and Kalsi initiated important conversations about inclusion by hosting Spread the Word>>Inclusion events in Surrey and with UBC's Best Buddies program, respectively;
Shi created two engaging and inclusive Special Olympics sport try-it days for children with intellectual disabilities in Port Moody, which were supported by local student volunteers;
In Sechelt, Lane engaged the Chatelach Secondary School ultimate Frisbee team to teach SOBC – Sunshine Coast athletes basic skills for the sport.
These champions were selected for the inaugural Youth Engagement Project based on their applications in summer 2019, and they kicked off their participation with a summit in August 2019 where they brainstormed project ideas and execution tactics. At home in their communities, they spent weeks meeting with SOBC Local Committees and building their projects. The final events were hosted January through early March 2020. 
Special Olympics BC is fortunate to have received new funding from the Government of Canada under the Canada Service Corps, so we're now seeking applications for the second Youth Engagement Project! Please click here to learn more and apply by June 5, 2020.