Special Olympics BC is dedicated to working with School Districts around the province to build inclusive schools through sport and education.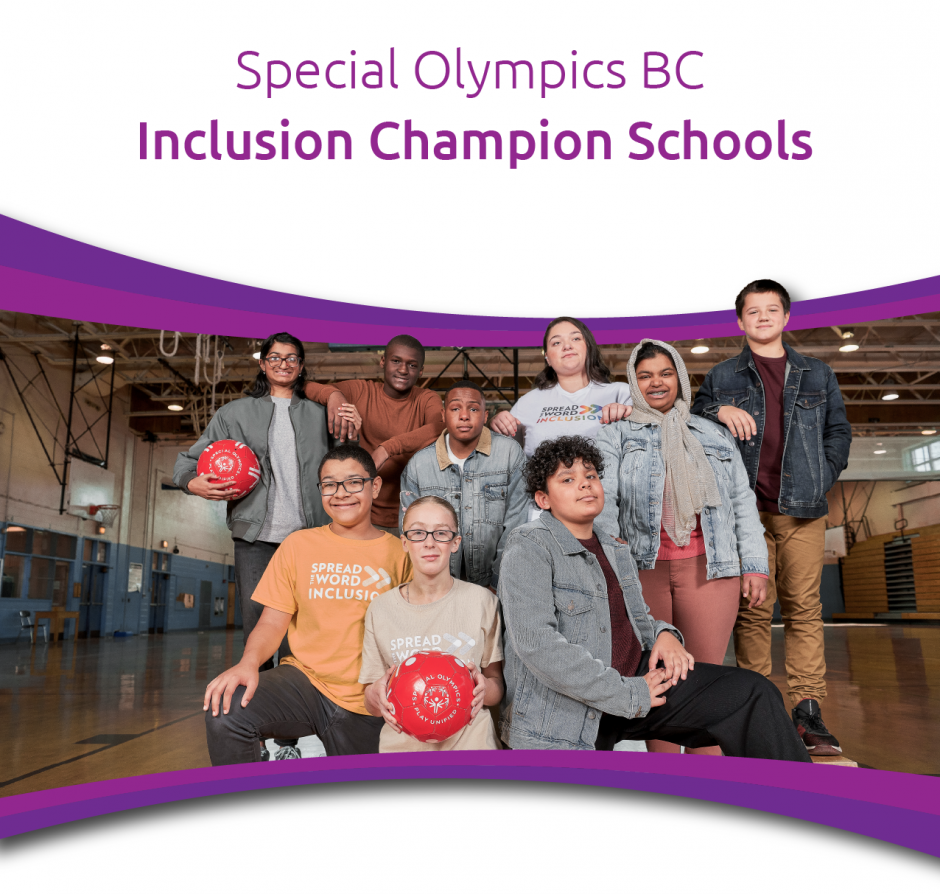 Your school can join our joyful team and create a more inclusive world for people with and without intellectual disabilities! 
Why Join Our Team
Special Olympics BC's Inclusion Champion Schools program gives educators a ready-made package of awareness and educational activities to help you promote inclusion of people with intellectual disabilities and empower all students to champion inclusion. Our kit will help you engage all students and staff with fun health, fitness, sport, and community activities.
Why Champion Inclusion
Our whole-school engagement activities not only reach the greatest number of students, but also have the most direct impact on how students feel about social inclusion. A school climate that promotes respect for everyone can positively impact how students think and act at school, at home, and in the community. 
Benefits of the SOBC Inclusion Champion Schools Program
Positive interactions: Students with and without intellectual disabilities will interact socially and develop mutually beneficial friendships. 
Respectful attitudes: All students will have a greater understanding of each other and will hold more positive attitudes toward each other. 
Engagement: The school will be a community of acceptance where students with and without intellectual disabilities feel welcome and contribute meaningfully to all school activities.
Connections: The school will be an inviting environment where students, staff members, and community members feel connected. It models inclusion as a community norm. 
Life Without Inclusive Schools 
Many Special Olympics BC athletes with intellectual disabilities say their school experiences were painful. Many of them were invisible in their classrooms, and left out of traditional sport programs. These experiences of isolation create lasting wounds, including serious health issues. On average, even today, people with intellectual disabilities die 20 years younger than peers without IDs. 
Special Olympics BC's programs help students with intellectual disabilities who aren't able to access the same physical and healthy activity options as their peers, and they help schools strengthen inclusion and respect throughout their community. 
Themes of Our Tools for Inclusion Champion Schools
Health: Promoting healthy habits with educational activities on nutrition, sun safety, and hygiene. 
Fitness: Encouraging movement throughout the day through school-wide activities and fun movement breaks. 
Sport: Developing sports lessons and teams where students with and without intellectual disabilities can play together. 
Community: Creating school-wide engagement through lessons, posters, and assemblies promoting inclusion. 
Recognition
Schools that join the SOBC Inclusion Champion Schools program will receive from Special Olympics BC:
Primary recognition 
Your school will be awarded a plaque or banner 
Secondary recognition 
Promotion in SOBC's digital channels
Tim Hortons gift cards
T-shirts, lanyards, masks
Sports equipment (TBD)
Join us today to open hearts and minds and create inclusion!
Please contact:
inclusion@specialolympics.bc.ca
Looking for an inclusive sport or motor skills program for your school?
The Special Olympics BC Inclusion Champion Schools program combines sport, leadership, health, and awareness activities. If your school wants to run specifically a sport or motor skills program, SOBC has you covered!
Ages 2 to 18: Please click here to learn about SOBC youth programs, which are tailored to help children and youth with intellectual disabilities learn vital motor and sport skills in supportive environment. SOBC provides manuals and equipment so these programs can be offered in school settings.
Secondary school: Please click here to learn about SOBC school sport competition programs, which uniquely create sport training and competition opportunities for high school student-athletes with intellectual disabilities.
SOBC Inclusion Champion Schools program generously supported by