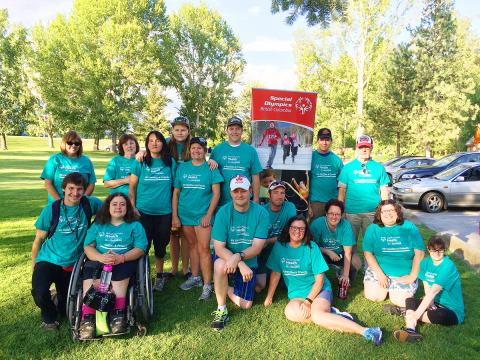 Special Olympics BC created Fit Families & Friends programs with the support of a Special Olympics Golisano Foundation Healthy Communities grant! This program is a great opportunity for SOBC athletes to get out with their families, friends, and social supports to meet as a group and exercise together in fun ways while sharing health and nutrition tips, creating an engaging environment to encourage each other and meet health goals together.
Groups meet for weekly walks/hikes or other fun and healthy activities, and together enjoy healthy snacks that can easily be made at home with the recipe cards provided to program participants.
Fun fact: You don't need to be a coach to lead a Fit Families & Friends program – this is a great opportunity for parents, caregivers, or community members who want to be involved but can't commit to a full season or are interested in trying out Special Olympics! The time commitment is minimal, and the benefits and fun times to be had are many.
For more information, please contact SOBC's Marlow de Paul at mdepaul@specialolympics.bc.ca or by phone at 604-737-3081.
2019 programs
In summer 2019, programs ran in:
Campbell River
Chilliwack
Coquitlam
Kelowna
Kimberley/Cranbrook
Kitimat
Langley
Mackenzie
Prince George
Quesnel
Smithers
Terrace
2018 programs
In summer 2018, programs ran in:
2017 programs
In summer 2017, popular programs ran in Abbotsford, Kelowna, Kimberley/Cranbrook, Oceanside/Nanaimo, Prince George, the Sunshine Coast, and Trail. Many thanks to all the participating volunteers, athletes, and supporters who made these programs so much fun and so helpful for health and fitness!
Team members are welcome to join the Facebook groups to keep cheering each other on: Prince George || Sunshine Coast || Kelowna
2016 programs
In summer 2016, the inaugural participants in Prince George, Kelowna, and the Sunshine Coast showed wonderful dedication to being active and healthy together, and they had a blast! Together they walked, ran, and hiked more than 2,100 kilometres.
Prince George
SOBC – Prince George piloted the Fit Families & Friends program in 2016. They walked together throughout the summer each week on University Hill, which is three kilometres up and three back down. As of September 7, the Prince George group had 52 participants in total, including 14 athletes and 38 supporters, and had walked a total of 1,417 kilometres.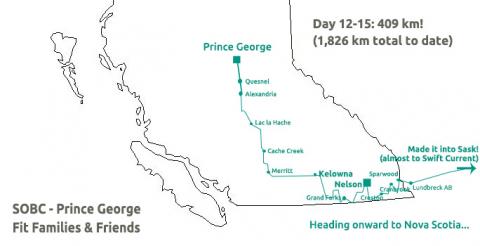 Sunshine Coast
SOBC – Sunshine Coast ran the Fit Families & Friends program for eight weeks throughout summer 2016. They had 22 participants in total, including 10 athletes and 12 supporters. Each Thursday the group walked and ran their local track. The athletes were encouraged to add to their total kilometres so several also participated in local runs. The group ran/walked a total of 226 kilometres. Here's how they did in relation to the distance between them and the Prince George Fit Families & Friends group: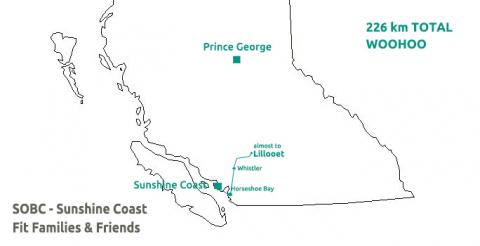 Kelowna
In 2016, SOBC – Kelowna's Fit Families & Friends had a total of 39 participants, including 15 supporters and 24 athletes. In total the group walked/ran/hiked 599.5 kilometres on the Mission Creek Greenway Trails. Four of the participants made the 50-minute drive in from Vernon every week to participate in Fit Families & Friends! The group also welcomed one person who went on to join SOBC – Kelowna that fall, and one past athlete who has now reconnected with the Local, which is terrific.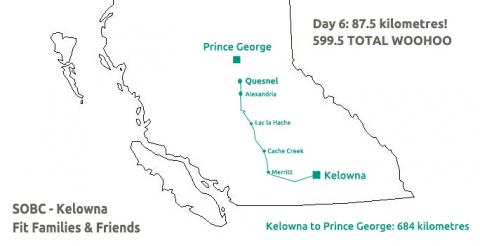 All together
Together their goal was to walk the distance from B.C. to Antigonish, Nova Scotia, host of the 2018 Special Olympics Canada Summer Games!