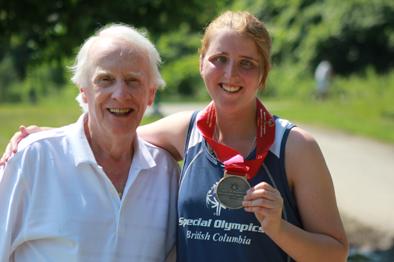 In the early 1960s, testing of children with intellectual disabilities revealed that they were only half as physically fit as their peers who did not have intellectual disabilities. It was assumed that their low fitness levels were a direct result of their intellectual disabilities.
Dr. Frank Hayden, a Toronto researcher, questioned this assumption. His research showed that if provided the opportunity, those with intellectual disabilities could acquire the physical skills necessary to participate in sport and to become physically fit.
Dr. Hayden began searching for ways to develop a national sports program for people with intellectual disabilities. His work came to the attention of the Kennedy Foundation in Washington, DC and led to the formation of Special Olympics.
The first Special Olympics sports competition was held in Chicago in 1968. To ensure Canada's representation at the competition, Dr. Hayden called on Harry 'Red' Foster, a renowned broadcaster, businessman and humanitarian, for support. Mr. Foster accompanied a Special Olympics floor hockey team from Toronto to the competition.
Inspired by his experience and by the potential of Special Olympics to enrich the lives of those with intellectual disabilities, Mr. Foster began laying the foundation for the Special Olympics movement in Canada.
In 1969, the first Canadian Special Olympics event was held in Toronto.
Special Olympics in B.C.
In 1980, Special Olympics BC started out with two weekends of games and about 500 participants. Today we provide year-round, high-quality sports programs and competitions for more than 4,800 athletes in 55 communities around the province, with the vital assistance of more than 3,900 trained, dedicated volunteers.
The programs run by SOBC Locals in up to 18 sports and youth programs give athletes the chance to gain sport skills and improve their health while enjoying training that could take them to competitions at local, regional, national, and international levels. But the benefits from Special Olympics BC programs go well beyond the basics: Our athletes experience joy and acceptance, cultivate friendships and self-confidence, and feel empowered to overcome obstacles and achieve their goals.
Special Olympics founder Eunice Kennedy Shriver
Eunice Kennedy Shriver, founder of Special Olympics, was a pioneer in the worldwide struggle for rights and acceptance for people with intellectual disabilities. She believed in justice. But, in the late 1950s and early 1960s, she saw little justice in the way people with intellectual disabilities were treated. She saw they were excluded and routinely placed in custodial institutions. They were often ignored and neglected, yet she knew they had many talents and gifts to offer. 
Eunice Kennedy Shriver had a sister, Rosemary, who had an intellectual disability. She and Rosemary grew up playing sports together and with their family. The sisters swam, they sailed, they skiied, they played football together. But in those days, there were limited programs and options for someone like Rosemary. 
Eunice Kennedy Shriver went on to become an athlete in college. She began to see that sports could be a common ground to unite people from all walks of life.
Camp Shriver
Eunice Kennedy Shriver believed that if people with intellectual disabilities were given the same opportunities and experiences as everyone else, they could accomplish far more than anyone ever thought possible.
She put that vision into action in 1962 by inviting young people with intellectual disabilities to a summer day camp she hosted in her backyard. She called it "Camp Shriver." The goal was to explore the children's skills in a variety of sports and physical activities. The idea behind that first Camp Shriver began to grow. In July 1968, the first International Special Olympics Games were held in Chicago, Illinois, USA. Learn more about the events leading up to the founding of Special Olympics.
In her remarks at the Opening Ceremony, she said the inaugural Special Olympics event in Chicago proved "a very fundamental fact": that children with intellectual disabilities can be exceptional athletes and that "through sports they can realize their potential for growth." She pledged that this new organization, Special Olympics, would offer people with intellectual disabilities everywhere "the chance to play, the chance to compete and the chance to grow."
What began as one woman's vision evolved into Special Olympics International - a global movement that today serves more than 4.9 million people with intellectual disabilities in 172 countries.
Development of a Visionary
Eunice Mary Kennedy was born in Brookline, Massachusetts, USA, on 10 July 1921, the fifth of nine children of Joseph P. and Rose Fitzgerald Kennedy.
She received a Bachelor of Science degree in sociology from Stanford University in Palo Alto, California. Following graduation, she worked for the U.S. State Department in the Special War Problems Division. In 1950, she became a social worker at the Penitentiary for Women in Alderson, West Virginia, and the following year she moved to Chicago to work with the House of the Good Shepherd and the Chicago Juvenile Court.
On 23 May 1953, Eunice Kennedy married Robert Sargent Shriver, and in 1957, she took over the direction of the Joseph P. Kennedy, Jr. Foundation.
The Foundation was established in 1946 as a memorial to Joseph P. Kennedy, Jr. – the family's eldest son, who was killed in World War II. The Foundation has two major objectives: to seek the prevention of intellectual disability by identifying its causes, and to improve the means by which society deals with citizens who have intellectual disabilities.
Paving The Way
Under Eunice Kennedy Shriver's leadership, the Foundation achieved groundbreaking advances. These included the creation of President Kennedy's Panel on Mental Retardation in 1961, development of the National Institute for Child Health and Human Development in 1962, establishment of a network of university-affiliated facilities and intellectual disabilities research centers at major research universities across the United States in 1967, and the creation of major centers for the study of medical ethics at Harvard and Georgetown universities in 1971. In the 1980s, she pioneered the "Community of Caring" concept as a character-education program for teens; this idea led to the creation of 16 "Community of Caring" Model Centers and the establishment of "Community of Caring" programs in 1,200 public and private schools across the United States.
Recognized throughout the world for her efforts on behalf of persons with intellectual disabilities, Eunice Kennedy Shriver also received many honors and awards. These include the U.S. Presidential Medal of Freedom, the highest honor awarded to civilians in the U.S., and honorary degrees from Yale University and Princeton University, among others. Yet, she always felt that it was people with intellectual disabilities who deserved the awards.
She died on 11 August 2009. She was survived by her husband, Sargent Shriver, and their five children: Robert Sargent Shriver III, Maria Owings Shriver Schwarzenegger, Timothy Perry Shriver, Mark Kennedy Shriver and Anthony Paul Kennedy Shriver. Sargent Shriver died on 18 January 2011.