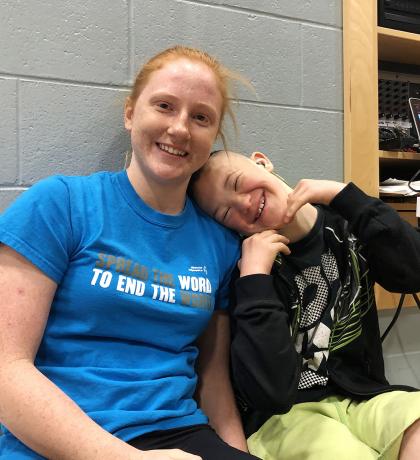 Around the world, exclusion, isolation, and discrimination continue to divide people with and without intellectual and developmental disabilities. Special Olympics is committed to changing that, using the power of sport to open hearts and minds to the abilities of individuals with intellectual disabilities. And grassroots activists all over the world are committed to changing that and creating a better world using Spread the Word.
Spread the Word is a global engagement campaign to increase inclusion among people with and without intellectual disabilities through grassroots action. In schools, workplaces, and communities around the world, local youth and leaders are pledging to create socially inclusive places to learn, work, and live.
Founded by two youth leaders in 2009 as Spread the Word to End the Word, the campaign focused its first 10 years on addressing a particularly powerful form of exclusion: the word 'retard(ed)'. Over 10 years, leaders and self-advocates collected millions of digital and physical pledges to end the R-word. 
Each of these pledges was a personal commitment to acknowledge the hurt caused by the R-word and to be respectful in the words and actions taken towards people with intellectual and developmental disabilities. With leadership from Special Olympics and Best Buddies and support from hundreds of other advocacy organizations, the campaign grew from a handful of events in 2009 to reach thousands of schools by 2018.
In 2019, Spread the Word to End the Word became Spread the Word, with a focus not just on the elimination of a word but on the creation of a new reality: inclusion for all people with intellectual and developmental disabilities. The campaign remains committed to empowering grassroots leaders to change their communities, schools, and workplaces, now through a call to their peers to commit to taking action for inclusion.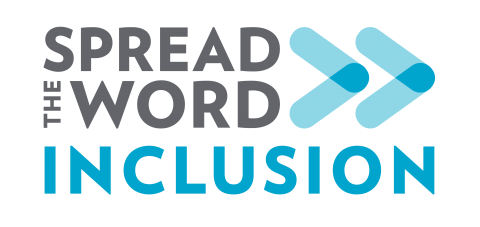 Megan Owens is a Chilliwack high school student who found her way to Special Olympics through her extensive swimming background. She is now a dedicated Special Olympics coach and Special Olympics BC – Chilliwack's Co-Volunteer Coordinator. Owens found that use of the R-word was still rampant in her community. 
"I was hearing it every single day in school," she said. Owens would regularly speak out against it and open eyes to the hurtfulness of this language and exclusive behaviour. But she had the amazing idea of tackling the problem by reaching out to younger students, planting the seeds of inclusion and respectful language earlier in life, forming positive habits.
In 2019, Owens initiated the Spread the Word campaign in Chilliwack's AD Rundle Middle School and Chilliwack Middle School, leading presentations and pledge booths. The response from the schools and students was positive and inspiring. Once they were informed, Owens said, she could hear students saying they were telling others. And one young student who is also a Special Olympics athlete gave her a big hug before one of her presentations because of the impact. 
Now, Owens won a spot in the Special Olympics BC Youth Engagement Project and will be using the 2019-20 school year to increase inclusion and awareness with even younger students. Using a model pioneered by UBC student Nikol Grishin, Owens plans to set up projects in elementary schools where Special Olympics athletes will come in for sessions to teach sports and talk about inclusion with the kids. 
Owens knows that firsthand familiarity with Special Olympics athletes is the best source of inspiration for a better world. 
"It's definitely made me more aware, and I'm more inspired. It impacts my life a lot and has made me so happy," Owens said about volunteering with Special Olympics and being around the athletes. "I feel badly for the people who don't know. They need to meet these people and know what they're capable of."
Owens and fellow inspiring Youth Engagement Project participant Rachel Simes, a teacher in Hope, were also selected to participate in Special Olympics International's Inclusive Youth Leadership Summit in Chicago, alongside SOBC – Chilliwack athlete Madeleline Kean. 
In Langley, Special Olympics athlete Christian Burton and the Langley School District sought to make a difference by introducing the Spread the Word campaign during their Respect and Diversity Week this year. Please click here to read about Burton's inspiring presentation at DW Poppy, the high school from which he graduated.  
Anyone and everyone can follow the lead of Owens, Burton, and fellow leaders by using the Spread the Word campaign to open hearts and minds in their schools and communities. To access B.C. campaign resources, please contact Community Development Coordinator Chelsea Rogers at crogers@specialolympics.bc.ca or 604-802-4226. 
Read more about Spread the Word in B.C.
Make your pledge and take your action for a more inclusive world. Join millions who have done the same. And spread the word. www.spreadtheword.global