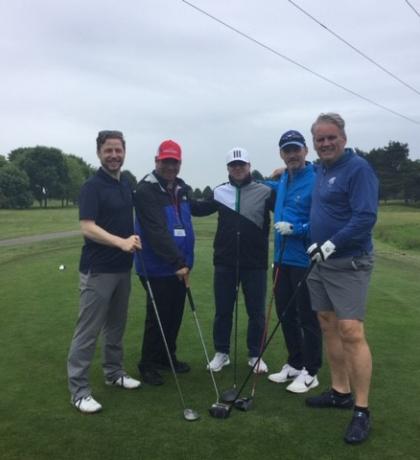 A longtime and dedicated sponsor of Special Olympics BC, Wheaton Precious Metals is truly dedicated to making a difference for athletes with intellectual disabilities across the province.
Wheaton Precious Metals started their support of Special Olympics BC in 2006 as the Presenting Sponsor of the Sports Celebrities Festival. Since then, Wheaton Precious Metals has remained a key supporter of this important event, helping raise vital funds and awareness for Special Olympics BC and the Canucks for Kids Fund. To date, Wheaton Precious Metals has helped the SCF raise more than $6 million.
"The Sports Celebrities Festival is a wonderful reminder of the power of sport to connect and inspire us all," said Wheaton Precious Metals CEO Randy Smallwood at the 2021 SCF. "[Special Olympics BC athletes] demonstrate that there are no limits to achievement when the virtues of perseverance, teamwork, and self-discipline are practiced."
Wheaton Precious Metals is also an important sponsor of the SOBC Classic golf tournament. When it was determined that event could not be held in 2020, Wheaton Precious Metals showed their leadership by immediately converting their sponsorship into a donation. This helped inspire many other companies and individuals who had previously sponsored the tournament or purchased a team to continue their support.
Wheaton Precious Metals CEO Randy Smallwood has generously supported SOBC through his efforts as a member of the SOBC Board of Directors since 2012, and has served in the roles of Chair and Vice Chair.
Wheaton Precious Metals has been a generous champion and sponsor for SOBC for many years, and they are genuinely committed to the Special Olympics movement, regularly going above and beyond. They stepped forward to serve as a prominent sponsor of the 2014 Special Olympics Canada Summer Games in Vancouver. Throughout our relationship, Wheaton Precious Metals has also frequently and generously provided SOBC with priceless silver coins and bars to elevate our fundraising initiatives.
In 2016, Smallwood served as Honorary General Manager for Team BC at the 2016 Special Olympics Canada Winter Games in Corner Brook, Newfoundland. Smallwood attended team training camps before the Games and travelled to Newfoundland to cheer on athletes at their events. Additionally, in October 2018, Wheaton Precious Metals was inducted into Special Olympics BC Hall of Fame in recognition of the important contributions they have made to SOBC.
We are so grateful for the ongoing support of Wheaton Precious Metals!