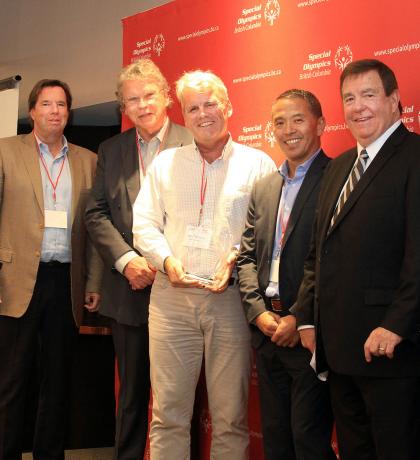 A longtime and dedicated sponsor of Special Olympics BC, Wheaton Precious Metals is truly dedicated to making a difference for athletes with intellectual disabilities across the province.
During the pandemic, they have gone above and beyond to help overcome financial challenges related to COVID-19. Right away at the beginning of the pandemic, they confirmed they would stand by their generous commitments to SOBC through their active Community Investment Program, regardless of whether we would be able to run the events they traditionally support.
The Sports Celebrities Festival presented by Wheaton Precious Metals went virtual this year for the first time, and the generosity and leadership of Wheaton Precious Metals played a significant part in making this inaugural virtual event a huge success. Despite the change in format, the event remained an inspiring celebration of sport – and raised more than $440,000 to support SOBC and the Canucks for Kids Fund.
As the Presenting Sponsor of the Sports Celebrities Festival since 2006, Wheaton Precious Metals has helped this inspiring event raise more than $6 million to date.
Wheaton Precious Metals is also an important sponsor of the Newmont Invitational Golf Tournament. When it was determined that event could not be held in 2020, Wheaton Precious Metals showed their leadership by immediately converting their sponsorship into a donation. This helped inspire many other companies and individuals who had previously sponsored the tournament or purchased a team to continue their support.
Wheaton Precious Metals has been a generous champion and sponsor for SOBC for many years, and they are genuinely committed to the Special Olympics movement, regularly going above and beyond. Eight years ago, they stepped forward to serve as a prominent sponsor of the 2014 Special Olympics Canada Summer Games in Vancouver. Throughout our relationship, Wheaton Precious Metals has also frequently and generously provided SOBC with valuable silver coins and bars to use for fundraising initiatives.
Wheaton Precious Metals CEO Randy Smallwood has generously supported SOBC through his efforts as a member of the SOBC Board of Directors since 2012, and has served in the roles of Chair and Vice Chair.
Additionally, Smallwood served as Honorary General Manager for Team BC at the 2016 Special Olympics Canada Winter Games in Corner Brook, Newfoundland. Smallwood attended team training camps before the Games and travelled to Newfoundland to cheer on athletes at their events.
In October 2018, Wheaton Precious Metals was inducted into Special Olympics BC Hall of Fame in recognition of the important contributions they have made to SOBC. Accepting the induction on behalf of the company, Smallwood said that he had spoken with many of the other 2018 SOBC Hall of Fame inductees, and everyone was excited about what lies ahead for Special Olympics BC.
"You know what astounded me, and it was a pretty consistent response from every single one these recipients, was 'I'm not done yet!'" he said. "It just goes to show, we're not done, and we've got so much more we can do."
We are so grateful for the ongoing support of Wheaton Precious Metals!