Providing important athlete insights on Special Olympics ideas and issues!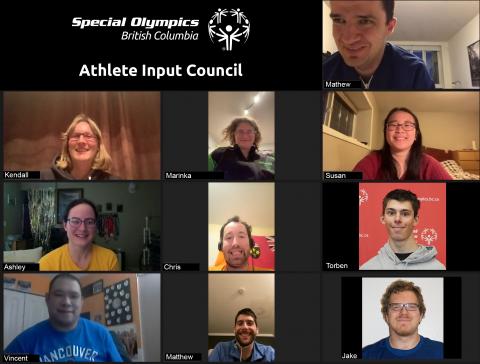 Matthew Williams
AIC Chairman
SOBC – Langley athlete
Contact: SOBCathletechair@gmail.com
Learn more about Matthew
Kendall Salanski
Region 1 representative
SOBC – Kimberley/Cranbrook athlete
Contact: Region1athleterep@gmail.com
Chris Harrington
Region 2 representative
SOBC – Kelowna athlete
Contact: Region2athleterep@gmail.com
Susan Wang
Region 3 representative
SOBC – Surrey athlete
Contact: Region3athleterep@gmail.com
Vincent Li
Region 4 representative
SOBC – Richmond athlete
Contact: Region4athleterep@gmail.com
Mathew Schmiing
Region 5 representative
SOBC – Vancouver athlete
Contact: Region5athleterep@gmail.com
Jake Hooper
Region 6 representative
Canadian Athlete Leadership Council member
SOBC – Comox Valley athlete
Contact: jakehoopersobc@gmail.com
Learn more about Jake
Torben Schuffert
Region 7 representative
SOBC – Smithers athlete
Contact: Region7athleterep@gmail.com
Learn more about Torben
Marinka VanHage
Region 8 representative
SOBC – Prince George athlete
Contact: Region8athleterep@gmail.com
Ashley Adie
Board of Directors and Leadership Council member
SOBC – Campbell River athlete
Contact: Region6athleterep@gmail.com
Learn more about Ashley
SOBC staff support:
The SOBC Athlete Input Council advises SOBC on important ideas and issues. They gather and share feedback from fellow athletes.
The SOBC Athlete Input Council has athlete representatives from each Region around the province, serving two- or three-year terms (staggered to ensure continuity for the council). The council members all have Athlete Leadership experience from previous courses and roles.
All members of the SOBC community are welcome to contact their respective Regional representatives to share their suggestions and ask for Athlete Input Council feedback and leadership on Special Olympics initiatives and ideas!
Meetings
The SOBC Athlete Input Council is expected to meet virtually five to six times a year.