Special Olympics Team BC 2020: Snowshoeing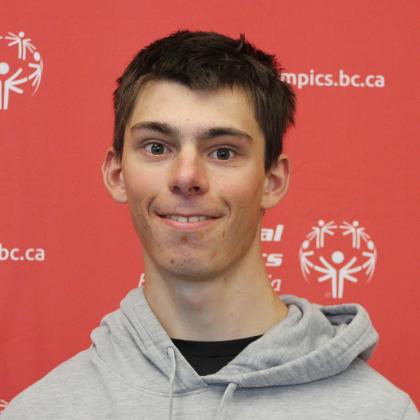 Special Olympics BC Local:
Smithers
Hometown:
Smithers
When and how did you get involved with Special Olympics?
In 2012, when I was 11, I started alpine skiing.
Will these be your first Special Olympics Canada Games? If not, which other National Games did you compete in, and in what sports?
This will be my second National Games; the first time I went to Corner Brook for alpine skiing.
What were your results in the 2019 Special Olympics BC Winter Games? How did you feel about your performance?
I got two silver medals in my three events and we had a silver medal as a team in the relay. I was happy about my performance.
What does it mean to you to be part of Special Olympics Team BC 2020?
To train hard and thinking that I can do it. I also want to help my friends think that they can do it too.
What is your goal for these National Games?
To do my best in my sport and to cheer like crazy for all the athletes.
What does competing at National Games mean to you?
To be the best that I can be as an athlete and person.
What do you like most about the sport you will compete in at National Games?
When I am running and my friends are cheering, I feel happy and brave. Thanks to my friends, I know I can keep running even if it's hard.
What is your favourite Special Olympics experience to date?
Being able to carry the Region 7 banner in Vernon and help one of my buddies to enjoy the moment too.
What would you tell someone about Special Olympics to encourage them to get involved?
Everyone is nice there and everyone can help each other.
What other Special Olympics sports do you participate in?
Track and field, swimming, alpine skiing, and Club Fit. In the summer I do Fit Families & Friends.
Please tell us a little bit more about yourself! What else would you like people to know about you?
I love animals and can milk my family's goats. In the summer I like to go paddleboarding and fishing.
What is one word you would use to describe yourself? :)
Brave.