Special Olympics Team BC 2020 Speed Skating Head Coach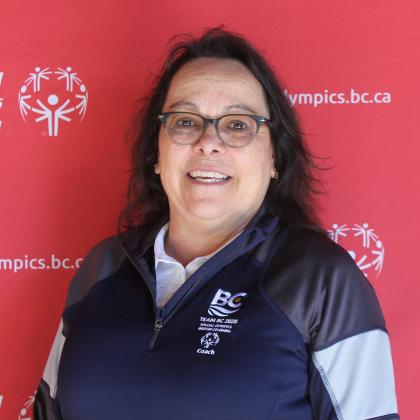 When and how did you get involved with Special Olympics?
My first experience was in high school when our PE teacher needed some help running a SO track meet. I then got involved when our daughter who is an SO athlete got involved and they needed help in the speed skating program.
Will this be your first Special Olympics Canada Games? If not, which other National Games were you part of and in what role(s)?
I went as an Associate Coach in 2008 for speed skating, Head Coach for Team BC speed skating in 2012 and 2016, Associate Coach for soccer in 2010, and Mission Staff for medical in 2014 and soccer in 2018.
What does it mean to you to be part of Special Olympics Team BC 2020?
It is always an honor to represent SOBC, and be given the opportunity to showcase my sport.
What is/are your goal(s) for these National Games?
To bring the best-prepared, cohesive team of speed skaters to these Games. To provide a great Games experience for athletes and coaches, and for all of us to grow from this experience.
What is your favourite Special Olympics experience to date?
I have two. As a parent of an SO athlete there is no greater pride and joy to watch them succeed in their goals, [so the first was] when my daughter won Canada's first gold medal for speed skating at the 2009 World Games. Second was the success of an athlete at the 2013 World Games when we didn't anticipate a medal, but because of the sheer dynamics of speed skating, where anything can happen and you never give up, he won gold!! His response on the ice of utter shock and disbelief was heartwarming.
What does competing at National Games mean to your athletes? (or, if this is your first National Games, competition in general)
I think they are really excited. They know how hard it is to make the team and they are proud of their accomplishments in getting there. I know they are striving to do their very best and we are working hard to be prepared.
What storylines are you excited to see develop in your Team BC sport team leading up to the National Games?
I think the dedication to their training and how it will effect their performance on the ice. I always love training camp because it gives the team an opportunity to get to know one another. I love hearing athletes' and coaches' goals, both individual and team goals, and love putting together plans on how we are going to be the best, to not only represent Team BC but our sport and of course ourselves.
What would you say about Special Olympics to encourage someone to get involved?
To a parent, I would express how being involved builds self esteem, how successes builds their confidence and self worth, and I would share the other health benefits and the many opportunities for self-growth within SO, as well as the importance of forming friendships in an environment where they truly feel they belong. To an athlete, a great way to make friends, have fun, get fit, and take advantage of many opportunities.