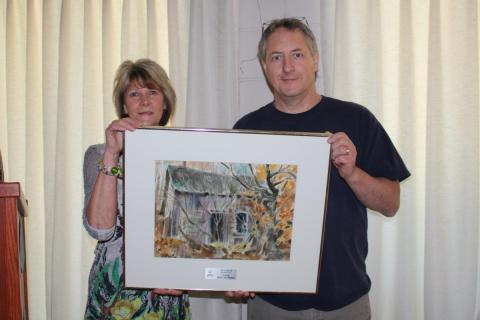 Special Olympics BC – Port Alberni's Bill Scobbie is a committed and caring coach who has developed great relationships with athletes, coaches, parents, and caregivers in his Local.
A knowledgeable bocce and curling coach, Scobbie works hard to provide opportunities for athletes, and he is the deserving winner of SOBC's 2017 Grassroots Coach Award.
A SOBC volunteer of more than 10 years, Scobbie supported athletes as a coach at the 2016 Special Olympics Canada Winter Games and has served as a coach and mission staff member at Provincial Games. Over his time with Special Olympics, he has coached at numerous regional competitions and volunteered as a first aid attendant at many SOBC events.
"Bill is very approachable and easy to talk to. He treats all people with respect and is very calm in all situations even if there is a need for discipline. He honestly cares! One of his fellow coaches commented that Bill knows his curling so well and is so kind and caring that he is a natural coach," his nominators wrote.
Scobbie helps athletes build skills that help them in their sports and everyday lives. He encourages athletes to always try their best and teaches them the value of sportsmanship and being polite. When behavioural issues come up, he deals with them in a positive and respectful manner.
An inspiring and inclusive coach, Scobbie finds ways to ensure all athletes in his Local can participate in sport. This has included researching techniques for delivering a curling stone from a wheelchair, building a wheelchair ramp so athletes can access bocce courts, and support athletes who need extra care at Games.
Scobbie is dedicated to developing his skills and has completed many coaching training courses so he can provide SOBC athletes with the best possible experiences. Scobbie is generous with his time and knowledge and is a valued mentor to other SOBC – Port Alberni coaches.
Thank you Bill Scobbie for your hard work and commitment!
We would also like to sincerely congratulate the other outstanding nominees for this year's award:
Larry Cagna, SOBC – Comox Valley
Michael Donoghue, SOBC – Vancouver
Meghan Jamieson, SOBC – Richmond
Aaron Leontowich, SOBC – Kamloops
Ricky Long, SOBC – Victoria
Ellen Martz, SOBC – Quesnel
Misty Pagliaro, SOBC – Kimberley/Cranbrook
Derek Taylor, SOBC – Grand Forks
Past Grassroots Coach Award recipients:
Janny Jung, SOBC – Vernon (2016)
Jeannie Cramer, SOBC – Smithers (2015)
Glen Ellison, SOBC – Richmond (2014)
Ruth Towers, SOBC – Delta (2013)
Rick Prosk, SOBC – Quesnel (2012)
Zak Klein, SOBC – North Shore (2011)
Evelyn Brandolini, SOBC – North Shore (2010)
Michelle Cooper, SOBC – Victoria (2009)
Chris Doyle, SOBC – Surrey (2008)