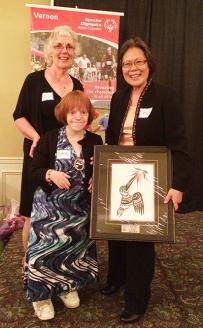 Special Olympics BC – Vernon's Janny Jung is a dedicated and compassionate coach who regularly uses her skills to help athletes overcome nervousness, gain confidence, and perform to their potential. A mentor to coaches and athletes in her Local, Jung is the deserving winner of SOBC's 2016 Grassroots Coach Award.
Jung is SOBC – Vernon's Head Coach of Club Fit and snowshoeing and Assistant Coach and team manager for athletics. In these roles she has worked to create an inclusive experience for all athletes, counsel athletes on nutrition and healthy living, and help athletes overcome their fears through visualization.
Jung tailored the Club Fit program in Vernon to better suit the needs of the Local's athletes by creating two levels: one that takes a developmental approach and another that challenges athletes with higher skill levels. This change has proven to be very successful, and athletes in both levels have made significant improvements in their skills, balance, and core strength.
A passionate and hardworking coach, Jung built SOBC – Vernon's snowshoeing program from the ground up. This year, Jung took the program's athletes to a friendly competition. This sparked a strong desire in the athletes to develop their skills and become more involved in their fitness and nutrition programs.  
As Assistant Coach and team manager of SOBC – Vernon's athletics program, Jung plays an integral role with the team. This includes keeping the team organized with paperwork, providing valuable feedback and direction to athletes, and supporting the program's Head Coach.
Jung is a mentor to an SOBC – Vernon athlete participating in the Athlete Speakers Bureau courses. Jung has forged an excellent relationship with the athlete, helping her overcome her initial anxiety around public speaking and feel confident and empowered. 
Jung is dedicated to developing her skills to better serve SOBC – Vernon's athletes. She has completed the NCCP training required for coaches to attend Regional Qualifiers and Provincial Games. She has also completed the Coaching Young Athletes course, which includes FUNdamentals movement skills training. Jung has participated in athletics and snowshoeing Performance Program training sessions.
Thank you, Janny, for your dedication and hard work!
We would also like to sincerely congratulate the many outstanding nominees for this year's award:
Clem Andrews, SOBC – Surrey
Chuck Bertrand, SOBC – Sunshine Coast
Davin Fung, SOBC – Vancouver
Meghan Jamieson, SOBC – Richmond
Janny Jung, SOBC – Vernon
Aaron Leontowich, SOBC – Kamloops
Ricky Long, SOBC – Victoria
Vivian Marsh, SOBC – Fort St. John
Emily Mittermayr, SOBC – Kimberley/Cranbrook
Bill Scobbie, SOBC – Port Alberni
Dave Showers, SOBC – Richmond
Susan Storry, SOBC – Powell River
Sue Rowe, SOBC – Golden
Bev Whitehead, SOBC – Comox Valley