The Grassroots Coach Award will be presented to a coach who works tirelessly to ensure that all athletes, regardless of their ability level, are provided with opportunities to train, improve and compete.
This coach emphasizes fair play and good sportsmanship and ensures that all athletes feel included and valued. This coach recognizes the unique gifts of each athlete and has the ability to form an exceptional bond with the athletes who require a unique approach from their coach.
2021 Grassroots Coach Award winner: Ellen Martz, SOBC – Quesnel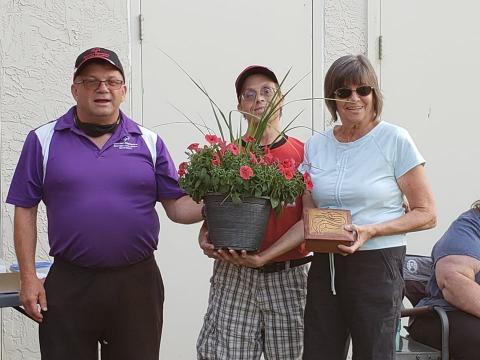 Special Olympics BC – Quesnel's Ellen Martz is a well-respected coach, an inspiring example for fellow volunteers, a dedicated champion of the Special Olympics movement, and SOBC's 2021 Grassroots Coach Award winner! 
In her nearly three decades with SOBC – Quesnel, Ellen has coached 5-pin bowling, Club Fit, track and field, rhythmic gymnastics, golf, soccer, and snowshoeing. She has also been her Local's Treasurer for 26 years, and helped with important fundraising.
Martz shines at creating solutions and motivations that benefit all the diverse individuals on a team. She is well respected because of her leadership by example, with her diligent, thoughtful coaching, above-and-beyond efforts for the Local, and the setting of mutual respect she creates for athletes and volunteers alike. 
While preparing for the 2018 National Games, Martz took on the training to administer insulin so that one athlete with diabetes could continue to be on the team. Another athlete was hesitant to travel to the Games, but Martz knew what a positive experience it would be and began encouraging the athlete to see the benefits. Martz committed to individual practice sessions and supportive home visits until eventually the athlete was excited about traveling to the National Games. 
She has been a guiding light for many, and her commitment and compassion have helped athletes elevate their performance and grow beyond the world of sport. 
Her nominators wrote, "Over the past 10 years, the Quesnel Local has made great strides in improving the participation level and competitive opportunities for athletes, and a huge amount of the credit must go to Ellen."
Congratulations to Ellen, and to all the deserving 2021 nominees! Watch Ellen's speech and the Grassroots Coach Award segment in the 2021 SOBC Awards Ceremony hosted by legendary broadcaster Bernie Pascall:
Past Grassroots Coach Award recipients:
Michelle Cooper, SOBC – Victoria (2009)
Chris Doyle, SOBC – Surrey (2008)