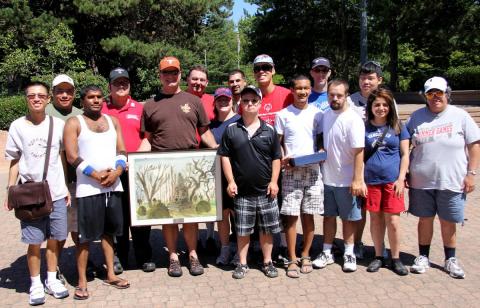 Special Olympics BC – Richmond coach Glen Ellison is the type of person who everyone knows, admires, and finds inspirational. For more than 30 years Ellison has lent his considerable coaching talents to Special Olympics and shown incredible care for and support of athletes.
Ellison has been involved in almost every sport in Special Olympics, as the Head Coach of floor hockey, basketball, soccer, and softball and assisting with many other programs. 
As Head Coach, Ellison has planned practices that serve the individual needs of athletes. He has helped with their overall development by using easy to understand directions and drills, bringing activities to their level so they can find even the smallest bit of success in everything that they do. 
Ellison considers the communication and physical and social needs of each athlete at every practice. He also encourages sportsmanship and team spirit and his practices always run smoothly.
"Glen makes each practice fun and motivating for the athletes, which in turn inspires them to work hard," his nominators wrote. "Knowing each athlete personally has given each a feeling of importance, acceptance, and uniqueness. Glen makes each athlete feel special and that they are able to accomplish anything they put their minds to."
Ellison's generous spirit and strong connection to the athletes is exemplified in his close relationship with his big brother, SOBC – Richmond athlete Scottie Ellison.
Ellison is always developing his own skill set, going out of his way to attend sport-related and Special Olympics-related courses and functions and reading and researching ways to support the athletes.
If there is a job to be done, Ellison is there to do it. This dedicated volunteer organizes tournaments in the Local, helps promote Special Olympics within the community, and takes on any small job that will benefit the athletes.
Ellison not only has a great connection with the athletes but also with the other coaches, volunteers, and families, helping anyone who needs support. With his vast experience, Ellison is a great resource to those volunteering or working in the Special Olympics community. 
Ellison is a true leader and recently has taken a new coach under his wing.
"This coach speaks so highly of Glen and is so grateful for Glen's support," his nominators wrote. "Glen has made his job that much easier by supporting him with information, helping with jerseys and equipment, and showing easy ways to keep things organized."
Ellison, who gives his heart and soul to Special Olympics and the athletes, is truly deserving of the Grassroots Coach Award.
We would also like to sincerely recognize the many outstanding nominees for the 2014 award:
Kurc Buzdegan (SOBC – Langley)
Rosemary Collins (SOBC – Campbell River)
Brian Gaudet (SOBC – Abbotsford)
Donny Gillanders (SOBC – Richmond)
Roland Handley (SOBC – Castlegar)
Rod McKenzie (SOBC – Surrey)
Jason Philips and Mark Wilson (SOBC – Golden)
Dave Robson (SOBC – Quesnel)
Susan Storry (SOBC – Powell River)
Wilma Van Hage (SOBC – Prince George)