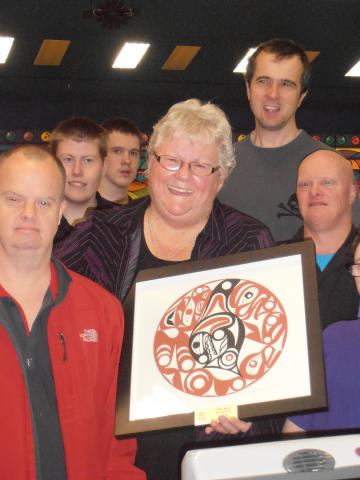 The deserving 2013 winner of the Grassroots Coach Award, Ruth Towers has been a respected, dedicated, thoughtful, giving, and knowledgeable coach of Special Olympics athletes for 25 years.
Ruth's fair and kind manner is appreciated and respected by all, and she brings a high level of knowledge, experience, and love of sport to her coaching. She is very patient and skilled in explaining reasoning and rules in ways that the athletes understand, and she treats all athletes with consistency and fairness, rewarding their achievements with report cards, certificates, calendars, and other mementos of the season that she creates.
"She sets high standards, expects them to try their best and does everything possible to make it a positive experience for everyone on the team. She is very quick to praise them and can always find something positive to say even while offering constructive criticism or discipline," her nominators wrote. "The athletes appreciate her and know she is on their side."
Ruth started Special Olympics BC – Delta's golf program and continues to lead this efficient and popular program as the thorough and dedicated Head Coach. She also gives her time as an Assistant Coach for 5-pin bowling. To launch the golf program, Ruth secured the course, fellow volunteers, and sponsor support; she plans all the lessons; she arranged for a golf professional to join in to teach the athletes introductory lessons. She put in extra time for the two local athletes who were gearing up to compete in the 2013 Special Olympics BC Summer Games in Langley, taking them out to play extra games in preparation.
Going above and beyond like this to support athletes in competitive opportunities is nothing new for Ruth. She has also served as Head Coach of softball and floor hockey for SOBC – Richmond, and coached teams to Provincial and National Games as well as numerous local and regional competitions. Backed and cheered on by Ruth, the athletes have life-changing experiences and are well supported and guided throughout.
In supporting individual athletes throughout their weekly programs, she is equally diligent and equally successful.
"Ruth is quick to notice how a program or training session needs to be modified to suit the varying needs & ability levels of the athletes. She will ask the athlete and the parent/caregiver what has worked in the past and then adjusts her approach accordingly," her nominators wrote. "She seems to be able to intuitively know how to handle different and sensitive situations."
Ruth's caring and commitment to her athletes has truly made a difference in many lives.
"It is apparent when she shows up at Regional competitions and athletes from other teams will rush up to her and shower her with hugs and say they miss her," her nominators wrote. "She has kept in touch on a regular basis with a couple of athletes she has known for many years. She encourages them to continue their participation in the sports programs by helping them fill out their forms, arranges rides, goes to their tournaments etc.
"Without her friendship and encouragement, I don`t think they would be active SOBC athletes and they wouldn`t enjoy the same quality of life."
SOBC – Delta's Executive Committee heartily endorsed her nomination for the award, saying she wholly exemplifies the award's criteria as a coach who has worked tirelessly to give opportunities to athletes, who emphasizes fair play and sportsmanship, who ensures all athletes feel included and valued, who recognizes the gifts of each athlete and forges bonds with those who require unique approaches from their coaches.
"You could ask any of our athletes and volunteers, and I'm sure you would get a unanimous vote of confidence in Ruth as the ideal candidate for this award. She really has the best interests of the athletes at heart, and has shown selfless dedication," they wrote.
Congratulations and sincere thanks, Ruth!
Special Olympics BC salutes all of the 2013 Grassroots Coach Award nominees:
Marilyn Adams (SOBC – Sunshine Coast)
Edith Cobb (SOBC – Kamloops)
Jeannie Cramer (SOBC – Smithers)
Willem and Gee deRuyter (SOBC – Invermere)
Roland Handley (SOBC – Castlegar)
Ned Johnson (SOBC – Golden)
Kelly Megyesi (SOBC – Vernon)
Shelagh Schmidt (SOBC – Creston)
Wilma Van Hage (SOBC – Prince George)