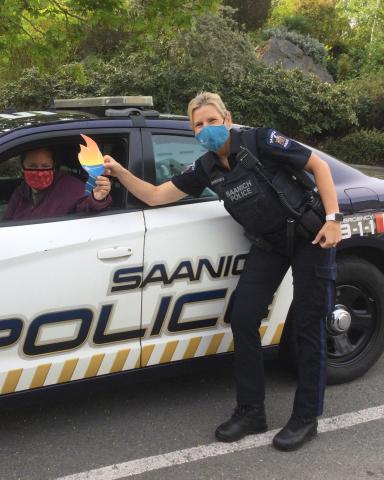 The winner of the inaugural BC Law Enforcement Torch Run Award is Constable Lisa Bruschetta of the Saanich Police Department.
Constable Bruschetta has been instrumental in the Law Enforcement Torch Run movement on the lower Island. She is a key organizer and inspiring leader for fundraising events like the Polar Plunge, Torch Run, and Free the Fuzz.
She has been a proud advocate as a Final Leg runner for Special Olympics World Games, including the upcoming 2023 World Games in Berlin. She is a role model within her department and community for her dedicated volunteer service.
Constable Bruschetta makes sure that Special Olympics athletes are included wherever and whenever possible, and she shows genuine personal commitment and friendship. She often meets athletes on a day off to enjoy a coffee and chat. 
Congratulations to Constable Bruschetta and all the deserving nominees! Watch her remarks in the 2022 SOBC Awards Ceremony: