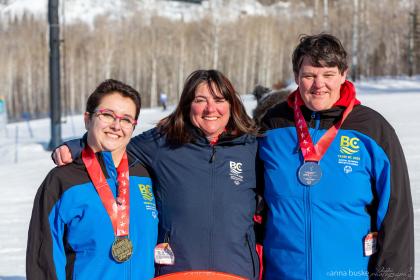 Throughout her 12 years with Special Olympics BC, SOBC – Kimberley/Cranbrook's Misty Pagliaro has provided the support, guidance, and encouragement to push athletes to achieve many personal bests and develop as athletes and as individuals.
We are delighted to announce that Misty Pagliaro is the deserving recipient of SOBC's 2020 Howard Carter Award for coaching excellence!
Pagliaro is the Head Coach of SOBC – Kimberley/Cranbrook's alpine skiing and golf programs as well as the Local's Fit Families & Friends program. Known for her can-do attitude, she has a very flexible coaching style, modifying her approach to fit the needs of the individuals she coaches.
Having coached Special Olympics athletes to success at local, regional, provincial, and national levels, Pagliaro knows what it takes to bring out the best in her athletes and help them succeed in competition. Pagliaro worked tirelessly with athlete Erin Thom on the golf course, putting in countless hours of extra practice together through their four-year journey to the 2019 Special Olympics World Summer Games, and was proud to see that their efforts result in a silver medal in Abu Dhabi.
Her coaching experience and wealth of resources mean that she is primed to take on any challenge that lays before her. She consistently connects with athletes via social media, and even stepped up during the SOBC program pause to lead Facebook Live sessions showing athletes different golf skills that they can work on from home.
Her nominators said, "Every video demonstrates not only Misty's knowledge of the sport and her ability to remotely teach skill development, but her personality also shines through and provides athletes and volunteers alike with the connection that we are all missing during these physically distant times. She is creative, innovative, and passionate when it comes to helping our athletes develop new skills."
Pagliaro is committed to providing athletes with a strong foundation from which to grow, and understands the importance of teaching progressions in order to give her athletes the greatest chance at success. Her kind and considerate nature paired with her tenacious coaching abilities have proven to be a strong combination. She is a valuable member of the Special Olympics community, and has a lasting positive effect on everyone she has worked with.
Congratulations, Misty, and thank you for your ongoing support and all that you do to help change lives for the better!
2020 SOBC Howard Carter Award virtual ceremony:
Special Olympics BC salutes this year's deserving Howard Carter Award nominees:
Bryan LeBlanc, SOBC – Surrey
Cheryl Friesen, SOBC – Vernon
Jessica Chapelski, SOBC – Vancouver
Past Howard Carter Award recipients:
Angela Behn, SOBC – Nanaimo (2019)
Courtney Keith, SOBC – Delta (2018)
Donna Bilous, SOBC – Abbotsford (2017)
Garth Vickers, SOBC – Kelowna (2016)
Tom Norton, SOBC – Abbotsford (2015)
Deborah Carter, SOBC – Surrey (2014)
Sheila Snell, SOBC – Surrey (2013)
Walde Libera, SOBC – Coquitlam (2012)
Donna Bilous, SOBC – Abbotsford (2011)
Jaci Gaetz, SOBC – Port Alberni (2010)
Nanci Martin, SOBC – Vancouver (2009)
Jackie Ross, SOBC – Prince George (2008)
Aleila Miller, SOBC – Smithers (2007)
Heather Hamilton-Wright, SOBC – Vancouver (2006)
Sylvia Wallach, SOBC – Port Alberni (2005)
Sallie Szanik, SOBC – Prince George (2004)
Randy Scott, SOBC – North Shore (2003)
Ralph Bramble, SOBC – Prince George (2002)
Rita Quelch, SOBC – North Shore (2001)
Sally Yee, SOBC – Vancouver (2000)
Mary McIntosh, SOBC – Vancouver (1999)
Dee Neukomm, SOBC – Prince George (1998)
Mick McLellan, SOBC – Kimberley/Cranbrook (1997)
Mona Hazell, SOBC – Penticton (1996)
Maureen Brinson, SOBC – Campbell River (1995)
Carmen Biko, SOBC – Vancouver (1994)
Hughie Wat, SOBC – Vancouver (1993)
Kathy Dumont, SOBC – Kamloops (1992)
Robb Berezan, SOBC – Coquitlam (1991)
Mike Vezina, SOBC – Surrey (1990)
Carollyne Sinclaire, SOBC – Vancouver (1989)