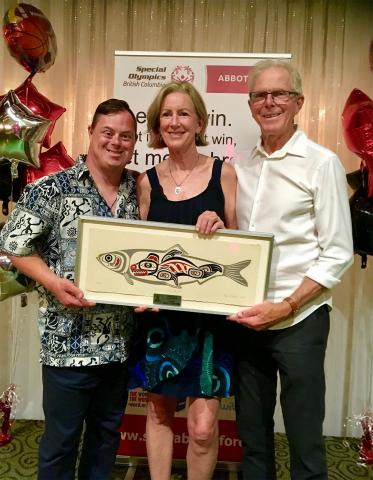 Special Olympics BC – Abbotsford's Edna Clifford has been a pioneer with her Local, dating back almost 35 years as one of the original founding members. As a parent who saw a need to bring Special Olympics to Abbotsford, she has worked tirelessly to improve the lives of people with intellectual disabilities through the power of sport.  Clifford is a deserving recipient of the 2018 SOBC Grassroots Coach Award.
Clifford began volunteering as the Head Coach of the local track and field team when the Local was first established and is renowned for her decade's long tenure as the Head Coach of the SOBC – Abbotsford basketball team.
Clifford was also instrumental in establishing the SOBC – Abbotsford swim team more than 30-plus years ago. She continues her involvement in basketball as a co-coach. In addition, Clifford has been involved in the Club Fit program, has served as a speech coach at the annual Athlete Leadership Conference, and has served as a member of the Local Committee.
Clifford, who was presented with the award on June 9, 2018, said winning came as a total surprise and considers it one of the best nights of her life.
"I am incredibly honoured and humbled at being given the Grassroots Coach award," Clifford said. "Volunteering is in itself a great reward, and the athletes, coaches, and volunteers that make up the Special Olympics organization in Abbotsford are some of the best people I know. These people have enriched my life and given me far more than I can ever give back to them."
She wanted to thank everyone who took the time to nominate her, as well as everyone at SOBC for the honour.
While the honour may have come as a shock to her, it didn't to those who know her.
 "Edna has been an amazing part of the Special Olympics basketball program for as long as I have known her," Leah Garrigus said.
Garrigus, a local SOBC volunteer and Abbotsford Police Constable, said while Clifford is serving as either head coach, assistant coach, or mentor, it's her dedication to her athletes and her love of the games that always shines through.
"While she wore those hats, she was always the head cheerleader. I don't know who has more fun at basketball, Edna or the players."
Clifford's ties to volunteering as a coach are reinforced by her commitment to her son James, both an SOBC athlete, and recently, an SOBC reporter.
"Edna is an inspiring and inclusive coach, finding ways to ensure all athletes in her local can participate in sport, her nominators wrote. "This has included support for athletes who need extra care at Games, and adding the little extras, the nice touches to social events for athletes who count on Special Olympics as their social circle."
Her strong family bonds are shared by her daughter Estee Clifford, an Abbotsford Police Constable and volunteer. She said her mother has served as her inspiration and role model.
"From a very early age she instilled in me the value of treating everyone as equals," Estee wrote as part of the nomination. "My mom lived this through not only raising my brother who has excelled in all areas of his life but also through all her coaching at Special Olympics."
Clifford is known to all as a coach who not only emphasizes the fundamentals of the sport but ensures inclusion is at the top of the list. Clifford's dedication to coaching helps athletes build skills that not only excel in their sports but in their everyday lives. She encourages athletes to always try their best and teaches them the value of sportsmanship and being respectful.
Congratulations to Edna Clifford for your dedication and commitment to the Special Olympics movement!
We would also like to sincerely congratulate the other outstanding nominees for this year's award:
Greg Bodin
Larry Cagna
John Campbell
Michael Elshoff
Meghan Jamieson
Vivian Marsh
Ellen Martz
Misty Pagliaro
Past Grassroots Coach Award recipients:
Michelle Cooper, SOBC – Victoria (2009)
Chris Doyle, SOBC – Surrey (2008)