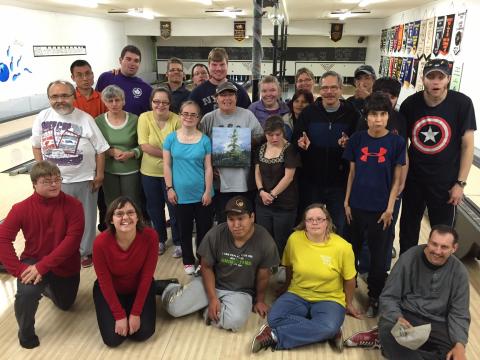 Jeannie Cramer of SOBC – Smithers has been a dedicated Special Olympics coach for nearly 20 years. Currently her Local's 5-pin bowling head coach, Cramer is known for seeing the ability in every athlete and nourishing that. She finds creative ways to have athletes participate in events both in the community and out.
Over the years Cramer has coached athletics, bocce, floor hockey, and soccer, in addition to bowling. As the head coach for bowling, she serves as the spokesperson for the program and communicates diligently with the athletes and their caregivers. She plans the competitions, makes sure everyone is registered to compete, and works hard to ensure that there are competition opportunities for everyone.
Cramer is known for her excellent work in preparing the athletes for practice sessions and competitions. She also keeps track of progress and has year-end awards to acknowledge each athlete.
She has attended many professional development opportunities, and is a fully certified level 1 coach in theory, practical and technical, Making Ethical Decisions, as well as a level 2 coach for 5-pin bowling.
Cramer is very proactive in addressing any concerns or problems brought up by an athlete or their caregiver. She is very willing to come up with a solution to make things work for an athlete and is absolutely tireless in her efforts to support athletes.
Cramer also willingly goes above and beyond her sport role in order to help make Special Olympics programs possible - on a Friday, Saturday, or Sunday she can be found at fundraising events such as the Safeway campaign with the bowlers helping fundraise for items needed for Special Olympics. The greatest gifts she gives are her time, her smile, and her ever-encouraging words to each athlete.
Congratulations, Jeannie, and many thanks for all that you do!
We would also like to sincerely congratulate the many outstanding nominees for this year's award:
Collin Berdusco (SOBC – Trail)
Greg Bodin (SOBC – Coquitlam)
Brian Gaudet (SOBC – Abbotsford)
Donny Gillanders (SOBC – Richmond)
Michelle Goosen (SOBC – Grand Forks)
Ann Jorgensen (SOBC – Campbell River)
Alison Koyanagi (SOBC – Vancouver)
Rod McKenzie (SOBC – Surrey)
Dave Robson (SOBC – Quesnel)
Susan Storry (SOBC – Powell River)
Bev Whitehead (SOBC – Comox Valley)