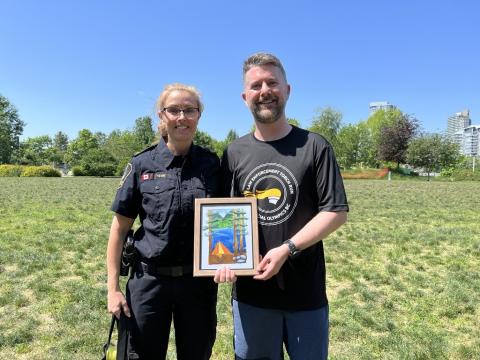 Vancouver Police Department Detective Constable Cam Mackay has been a member of the Law Enforcement Torch Run for Special Olympics BC for more than 10 years. He is a well-respected member of the VPD and BC LETR, as he embraces the principles of equity and inclusion in his day-to-day work.
Cam has worked hard to raise funds and awareness for SOBC through a variety of BC LETR events. He plays a critical role in organizing the Vancouver Polar Plunge and the Vancouver Torch Run. He has been instrumental in leading the VPD's involvement with the LETR, which has included spreading the word about Special Olympics within his agency and recruiting members to support fundraising initiatives. 
Cam has also volunteered with SOBC – Vancouver's Club Fit program. He supports athletes in their training and encourages them to achieve their fitness goals. He has a lot of respect for SOBC athletes and their abilities, and he has developed many meaningful friendships with Special Olympics athletes over the years. 
Congratulations to Cam and to all of the deserving 2023 award nominees!

SOBC looks forward to honouring all the deserving winners and nominees in a virtual awards ceremony on September 20, 2023 at 6 p.m. PT, helping open the next sport season with an inspiring celebration! Stay tuned for details!
MORE ON THE BC LETR AWARD
MEET 2023 SOBC AWARD NOMINEES

LEARN MORE ABOUT SOBC'S PROVINCIAL AWARDS
JOIN OUR JOYFUL COMMUNITY