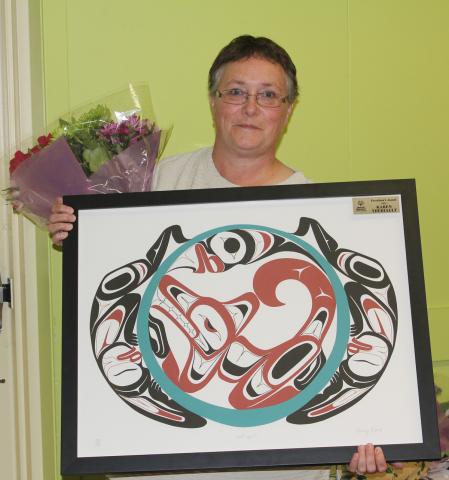 Over her 17 years of outstanding volunteer efforts with SOBC – Surrey, Karen Theriault has done so much to enrich the Local and the lives of athletes and fellow volunteers. Currently serving as the SOBC – Surrey Local Coordinator for the second time, Karen has stepped up many times to help lead the Local in numerous other Executive Committee positions, as well as chairing the valuable annual SOBC – Surrey soccer tournament and assisting with scores of subcommittees and special projects.
A well-respected, hardworking, and dedicated leader, Karen has strengthened SOBC – Surrey through partnerships she has built in the community, such as the valued relationship developed with the North Surrey Figure Skating Club that has both helped enhance the SOBC – Surrey program and has deepened awareness of Special Olympics in Surrey and the region.
Karen has also helped strengthen and grow SOBC – Surrey by encouraging and leading support for new initiatives such as a targeted growth plan involving multicultural communities and the introduction of new programs in areas currently lacking easy access to Special Olympics.
Described as "fair, friendly, and cooperative," Karen has also generously given of her time and expertise to help the region as well as serving as a supporter and Team Manager for many provincial, national, and international competitions, and she brings back any knowledge that she gains to share with the athletes and coaches in Surrey.
"Karen is always eager to share her knowledge and skill set and offer suggestions and ideas to help increase and enhance new and ongoing programs in her Local, and Regionally as well," her nominators wrote. "Karen is highly respected by her Executive, and the coaches, volunteers, and athletes in Surrey. … She goes above and beyond to ensure all sides are heard and all concerns are addressed immediately and fairly."
Karen is also the amazing mother to accomplished Special Olympics athlete Marc, longtime athlete and Special Olympics Canada Board of Directors member, and she is warmly regarded by so many of Marc's friends and fellow athletes for her incredible support and dedication to their well-being and development.
We are so grateful, Karen, for all that you do for SOBC!
Sincere congratulations to all of the 2013 President's Award nominees:
Mona Hazell (SOBC – Penticton)
Bev Inglis (SOBC – Elk Valley)
Julie McIntyre (SOBC – Kelowna)
Terri McLeod (SOBC – Nakusp)
Larissa Stanton (SOBC – Trail)
Greg Veale (SOBC – Kamloops)
Bill and Joan Woikin (SOBC – Nelson)
Chuck Yee (SOBC – Richmond)