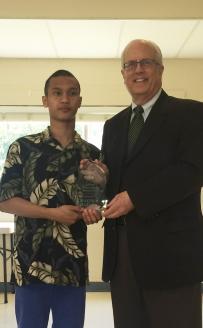 Special Olympics BC – Richmond's Magnus Batara is a talented athlete with a long list of accomplishments. His strong work ethic and fun-loving attitude have made him a role model to his teammates, and he is the deserving winner of SOBC's 2016 Athletic Achievement Award.
A dedicated swimmer, Batara trained extremely hard for the 2015 Special Olympics World Summer Games in Los Angeles, and his efforts showed in his results. Batara found himself at the top of the podium an incredible four times, capturing the gold medal in the 100m breaststroke, 200m breaststroke, 100m butterfly, and 4x100m medley relay.
Batara, the 2014 Athletic Achievement Award winner, also demonstrated his determination and skill at the 2014 Special Olympics Canada Summer Games in Vancouver. As a Team BC 2014 swimmer he won gold in the 100m breaststroke, silver in the 100m individual medley and 50m breaststroke, and bronze in the 50m butterfly.
Competing in the Special Olympics division at the 2013 Canada Summer Games in Sherbrooke, Que., Batara set the Canada Games record for the Special Olympics 50m breaststroke with a time of 36.80 seconds, breaking a record that had stood for eight years. He finished strong in all of his events at the competition, earning gold in the 50m breaststroke, 50m backstroke, and 100m backstroke, bronze in the 50m freestyle, and finishing fourth in the 100m freestyle.
Batara also excelled at the 2012 BC Games, winning gold in each of his nine events as a member of the Region 4 swimming team.
Batara's self-discipline and ability to be independent have grown dramatically over his nine years with SOBC. Always looking to improve, he devotes a great deal of time and effort to developing his skills in the pool. Batara's strong work ethic and talent have made him a leader amongst his teammates, and he inspires those around him to strive for excellence.
A versatile athlete, Batara has participated in floor hockey, soccer, athletics, basketball, swimming, and Club Fit during his time with SOBC. He won a silver medal with the Team BC floor hockey team at the 2012 Special Olympics Canada Winter Games in St. Albert, Alta.
Batara has received recognition in his community for his amazing accomplishments. This includes recently winning the inaugural Richmond News Sportsperson of the Year Award at the Richmond Sports Awards, and representing his community as a torchbearer in the 2015 Pan Am Games Torch Relay.
Our warmest congratulations to Magnus and all of the outstanding 2016 nominees for the Athletic Achievement Award:
Nicky Chow (SOBC – Richmond)
Cory Duhaime (SOBC – Delta)
Krista Meikle (SOBC – Victoria)
Tanya Norman (SOBC – Powell River)
Alex Pang (SOBC – Vancouver)
Shelly Poland (SOBC – Golden)
Jonathan Robins (SOBC – Kimberley/Cranbrook)
Darien Tielemans (SOBC – Cowichan Valley)
Susan Wang (SOBC – Surrey)