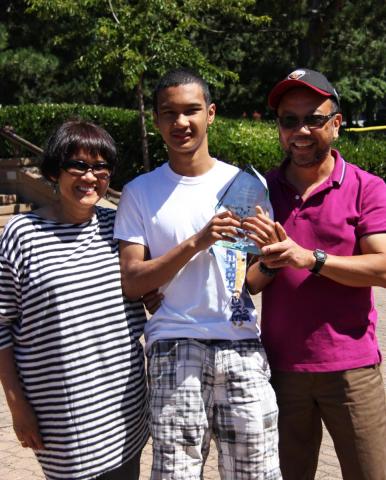 Special Olympics BC – Richmond athlete Magnus Batara has consistently strived to develop his considerable athletic abilities since joining Special Olympics seven years ago. As a result, this talented athlete has competed nationally and internationally, broken records, and won many medals.
Batara has earned the 2014 SOBC Athletic Achievement Award for his skill, accomplishments, and qualities as a role model.
Batara just came off a stellar performance with the Team BC 2014 aquatics team at the Special Olympics Canada 2014 Summer Games in Vancouver. His determination, focus, and talent earned him a gold in 100M breaststroke, silver in 50M breaststroke and 100M individual medley, and bronze in 50M butterfly.
Batara has competed successfully in the Special Olympics divisions at the BC Games and Canada Games. He broke the Canada Games eight-year record for the Special Olympics 50M breaststroke at the 2013 Canada Summer Games in Sherbrooke, Que., with his time of 36.80 seconds. Batara placed extremely well in all five events he competed in, earning gold in 50M breaststroke and 50M and 100M backstroke, bronze in 50M freestyle, and fourth place in 100M freestyle.
Batara competed with the Region 4 swimming squad at the 2012 BC Games where he brought home gold in each of his nine events. He also swam with Region 4 at the 2010 BC Games, winning four gold and two silver medals.
"Magnus works extremely hard and trains with great dedication. He is consistently working towards improving his skill in the pool," his nominators said. "Over the seven years as an athlete in Special Olympics, he has grown dramatically with his independence and self-discipline."
Batara was a shining star at the 2013 Special Olympics Summer Games in Langley, winning gold in the 50M and 100M breaststroke and 50M butterfly, and earning a spot on Team BC 2014.
As a member of Team BC, Batara showed amazing determination in his preparation for the 2014 National Games. Functional testing showed Batara making incredible gains in strength and flexibility during the season, as well as gaining seven pounds to help him ramp up his power.
A local hero, Batara was named Adult Male Athlete of the Year at the Richmond Sports Awards and Recognition Banquet in 2013.
This all-around athlete has also participated in Club Fit, soccer, floor hockey, athletics, and basketball, showing great zeal in these activities.
As a floor hockey player, Magnus was a member of Team BC at the 2012 Special Olympics Canada Winter Games in St. Albert, Alta.
Outside of Special Olympics, Batara has competed in swimming as a member of Team Canada at the 2011 Pan-Pacific Para-swimming Championships in Edmonton, Alta., and the 2011 Inas Global Games in Liguria, Italy.
This friendly and fun-loving athlete is held in high regard by his Special Olympics teammates, and he inspires those around him with his unparalleled dedication to sport.
Our warmest congratulations to Batara and all of the outstanding 2014 nominees for the Athletic Achievement Award:
Kellie Robertson (SOBC – Surrey)
Ashley Rosenberger (SOBC – Abbotsford)
Beau Wryghte (SOBC – Campbell River)
Cullen Yee (SOBC – Richmond)