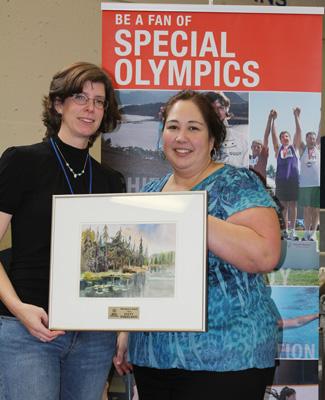 It's breathtaking to list the many and varied ways that Langley's Patty Wheeldon has helped Special Olympics BC at all levels. Patty, the 2010 winner of the President's Award, is currently the SOBC Leadership Council Chair, a member of the SOBC Board of Directors, an Athlete Congress facilitator, a curling and fitness coach in Langley, an NCCP course conductor, and a member of the mission staff for the 2011 Special Olympics Team Canada.
But that's just her current titles. Patty has also served warmly and well as a member of the mission staff for two editions of Team BC and two other Team Canada entries, as the Region 3 coordinator, as the 2007 Chef de Mission for Region 3, as the local coordinator and an executive member for SOBC - Langley, as a softball and floor hockey coach in Langley, as the organizer of Langley's high-quality annual floor hockey tournament and as a volunteer for numerous fundraising events.
But while the list of Patty's roles is impressive all on its own, the words doesn't capture the brightness of her smile, the respect and love she engenders in athletes and fellow coaches and volunteers, and the generous, warm and reliable way she steps up to help in so many different areas. She is a bright and integral presence at a wide range of events, and she is a valuable resource for Special Olympics volunteers and participants both in Langley and around the province.
Always ready to pitch in and give 110 per cent, always considering the interests of the athletes, always open to questions, Patty makes many of those she works with wonder how they could ever do it without her. Thank you, Patty, for all that you do!