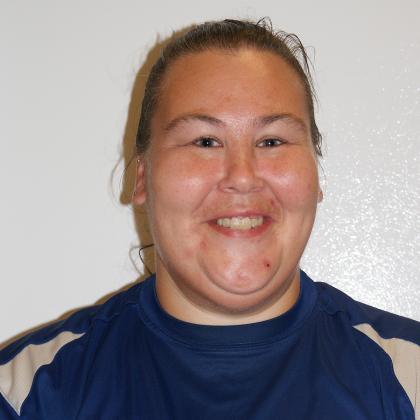 Special Olympics BC – Powell River's Tanya Norman has proven to be an incredibly focused and driven athlete. Her persistence and commitment to her training led to attaining impressive sport achievements, as well as personal health goals. Hailed as an inspiration by her coach, Norman is the deserving recipient of SOBC's 2020 Athletic Achievement Award. 
Norman has been an active athlete with SOBC for over 17 years, participating in Club Fit, bowling, floor hockey, softball, and swimming, showing the range of her talents. She won national silver medals with the Vipers floor hockey team, having reached the podium in back-to-back Special Olympics Canada Winter Games in 2020 and 2016, and competed in the 2008 National Winter Games in Quebec City.
Despite having a full-time job and attending numerous community programs, Norman still finds time and motivation to develop her athletic abilities. 
Leading up to the 2020 Special Olympics Canada Winter Games, Norman was training weekly with her floor hockey coach, completing intensive two-hour circuits at the gym on top of her weekly bowling and swimming programs. Additionally, Norman can be found hiking with her dog on her days off, showing just how dedicated she is to achieving peak performance. 
Norman's swimming coach Melissa Furlotte said, "There was no doubt, Tanya would have crushed her times at Regional Qualifiers. Her dedication to training for Nationals was super inspiring to watch. She is simply amazing." 
As an athlete who views challenges as opportunities instead of barriers, Norman has shown that she will do whatever it takes to improve. When she found out that athletes were required to participate in Club Fit in order to attend SOBC Provincial, National, and World Games, she immediately went to work. As the Athlete Representative for the past six years on the SOBC – Powell River Local Committee, Norman coordinated opportunities with local gym owners and personal trainers. Within six months, a successful Club Fit program was up and running, with eight to 12 participants at any given time. 
Through her passion and commitment to the world of sport, Norman has shown that she will work hard to achieve her goals. By activating a Club Fit program in her Local, she has paved the way for other athletes, providing them with opportunities to pursue their own success. 
Congratulations, Tanya, on your amazing accomplishments, and thank you for being such an inspiring role model
SOBC Athletic Achievement Award virtual ceremony:
Special Olympics BC sincerely congratulates all of the other nominees for the 2020 Athletic Achievement Award:
•    Cheyenne Jokinen, SOBC – Port Alberni 
•    Cory Duhaime, SOBC – Delta 
•    Francis Stanley, SOBC – Kelowna 
•    Genevieve Verge, SOBC – Sunshine Coast
•    Ian Walgren, SOBC – Nelson
•    Jennifer Utendale, SOBC - Surrey
•    Mary Adamson, SOBC – Vernon
•    Matthew Williams, SOBC – Langley
•    Patrick Reid, SOBC – Victoria
•    Sebastian G. Gylander, SOBC – Golden
•    Stuart Hawton, SOBC – Trail
•    Tin-Yee Ho, SOBC – Vancouver
Past Athletic Achievement Award winners:
•    Kelsey Wyse – SOBC Kelowna (2019)
•    Michael Langridge – SOBC Victoria (2018)
•    Paige Norton – SOBC Abbotsford (2017)
•    Magnus Batara, SOBC – Richmond (2016)
•    Mike Palitti, SOBC – Abbotsford (2015)
•    Magnus Batara, SOBC – Richmond (2014)
•    Erin Thom, SOBC – Kimberley/Cranbrook (2013)
•    Hazen Meade, SOBC – Campbell River (2012)
•    Paige Norton, SOBC – Abbotsford (2011)
•    Richard Gillis, SOBC – Kelowna (2010)
•    Bridget Colvin, SOBC – Burnaby (2009)
•    Marinka VanHage, SOBC – Prince George (2008)
•    Dave Devison, SOBC – Campbell River (2007)
•    Alan Swan, SOBC – Victoria (2006)
•    Jason Mills, SOBC – Campbell River (2005)