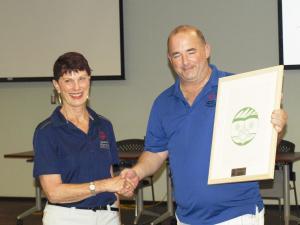 A dedicated volunteer, a caring coach, and an inspiring role model, Special Olympics BC – Kamloops Fundraising Coordinator Michael Maveety has shown himself to be a valuable asset to his Local and is the deserving winner of SOBC's 2016 President's Award.
In his almost seven years with SOBC – Kamloops, Maveety has demonstrated his dedication and passion for Special Olympics by consistently stepping up to help his Local in any way he can. Maveety leads by example and encourages everyone around him to be the best they can be. His calm demeanour, caring personality, and responsiveness to the needs of others have made him a well-liked and highly valued member of the SOBC – Kamloops community.
As Fundraising Coordinator, Maveety has played an important role in supporting his Local's athletes, volunteers, and programs through his hard work and creativity. He coordinates all the national fundraising campaigns in Kamloops, and has developed his own successful signature events that have helped his Local raise funds and increase its exposure in the community. 
Maveety has taken a leadership role in volunteer recruitment with SOBC – Kamloops. Whether it is recruiting a Treasurer for the Local Committee or a soccer coach, Maveety has taken it upon himself to use his contacts in the community to find individuals with the right skill set.
Maveety works hard to support the SOBC – Kamloops sport programs, including coaching the 10-pin bowling and bocce teams, assisting with athlete registration and ordering uniforms for many of the Local's teams.  
SOBC – Kamloops Local Committee members are highly appreciative of Maveety's efforts to develop his skills to better serve his Local. Maveety has worked to develop his public speaking abilities and recently took a course on social media to increase the effectiveness of his fundraising efforts.  
Thank you, Michael, for all your dedication, passion, and hard work!
Sincere congratulations to all of the 2016 President's Award nominees:
Andrea Boyes (SOBC – Victoria)
Jo Buck (SOBC – Terrace)
Joan Gerhardt (SOBC – Kelowna)
Anita Hui (SOBC – Vancouver)
Leo Mittermayr (SOBC – Kimberley/Cranbrook)
Karen Myers (SOBC – Prince Rupert)
Rick Stanley (SOBC – Nanaimo)
Chuck Yee (SOBC – Richmond)