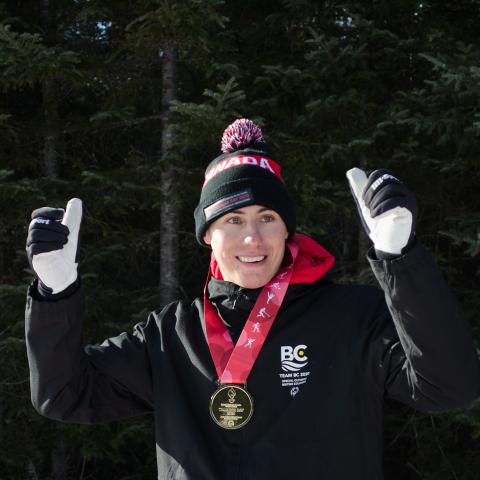 In his 13 years as a Special Olympics athlete, Kelowna's Francis Stanley has succeeded in every level of competition, in multiple different sports. As a dedicated and high-performing cross country skier, Francis twice earned three gold medals at Special Olympics Canada Games, medalled in the 2017 Special Olympics World Games, and earned a spot on Special Olympics Team Canada 2022.
Francis is known for his outstanding commitment to his training and racing program. He has amazing focus and determination. He continuously pushes himself to race faster and farther. He never stops thinking about skiing and Special Olympics.
Francis is also known for his positive attitude, his deep and abiding passion for his sport, and the encouragement and inspiration he gives to his teammates and to his friends and fans around the province. 
Francis is also a remarkable ambassador for Special Olympics. He successfully trains and competes in high-level cross country skiing programs and events outside Special Olympics, and he always represents our community with skill and with pride.
Francis has also competed at Special Olympics Provincial and National Games in soccer, and previously succeeded in athletics as well.
Congratulations to Francis and to all the deserving 2022 nominees! Watch the feature on Francis during the 2022 SOBC Awards Ceremony hosted by legendary broadcaster Bernie Pascall:
About the SOBC Athletic Achievement Award
Past Athletic Achievement Award winners:
Bridget Colvin, SOBC – Burnaby (2009)
Marinka VanHage, SOBC – Prince George (2008)
Dave Devison, SOBC – Campbell River (2007)
Alan Swan, SOBC – Victoria (2006)
Jason Mills, then SOBC – Campbell River (2005)