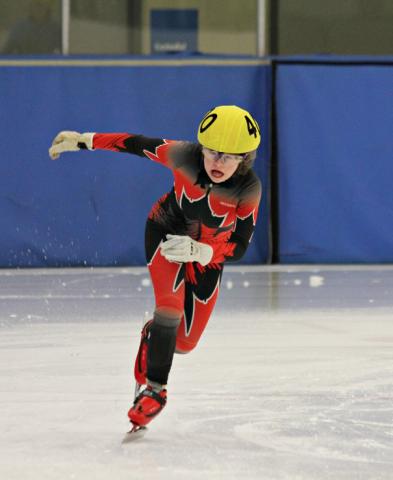 An accomplished multi-sport athlete, a medallist at Special Olympics World, National and Provincial Games, and a consistent and dynamic competitor, Paige Norton of SOBC – Abbotsford was selected as the winner of the 2011 Athletic Achievement Award.
At just 17 years old, Paige had already racked up an impressive string of accomplishments in her active athletic career, and particularly showed her strength in the 2010-11 season. In February, she raced her way to four gold medals in her speed skating events at the 2011 SOBC Ice Sport Championships, despite having been seriously ill just days before. Paige was there to race with a smile on her face, and delivered remarkable performances. She was then selected to the Team BC 2012 Training Squad and was working toward the 2012 Special Olympics Canada Winter Games in Alberta.
In July 2010, Paige blazed her way onto the podium three times in her track events at the 2010 Special Olympics Canada Summer Games. Paige medalled in all three of her events and achieved multiple personal-best times despite the draining heat wave that hit London.
In 2009, Paige reached the podium as a proud member of Team Canada in the 2009 Special Olympics World Winter Games in Boise, Idaho. Her speed skating skills brought her success at the 2007 SOBC Winter Games and 2008 Special Olympics Canada Winter Games, bringing her the Team Canada berth. Paige won two golds and one bronze medal in Idaho, going three for three in her speed skating events while achieving personal-best times.
In addition to her speed skating and athletics prowess, Paige also competes in swimming, soccer, basketball, baseball and golf. She is described as a brave, tenacious, confident, energetic and skilful person who is also involved in leadership and development initiatives off the field of play, such as her completion of the first level of SOBC Speakers Bureau training in 2010.
Congratulations, Paige!
Special Olympics BC congratulates all of the 2011 nominees for the Athletic Achievement Award:
Stuart Hawton, SOBC – Trail
Alison McKee, SOBC – Victoria
Laura Strauss, SOBC – Smithers
Erin Thom, SOBC – Kimberley/Cranbrook
Allan Tsang, SOBC – Vancouver
Benjamin Walker, SOBC – Smithers
Kara Williams, SOBC – North Shore