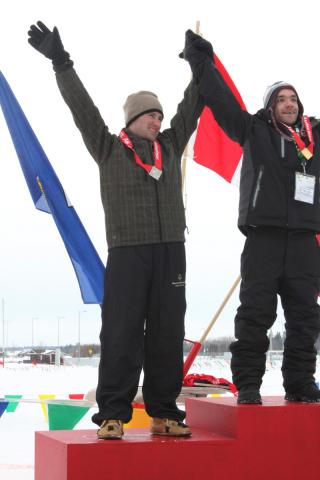 When Hazen Meade got the call saying he had earned a berth on Team Canada for the 2013 Special Olympics World Winter Games, his response reflected his 13-year journey to that achievement. "I guess dreams do come true," he told his coach.
An exceptionally dedicated and hardworking Special Olympics BC – Campbell River athlete, Hazen has made giant strides in his 15 years with the Local's snowshoeing team. He started out as an athlete who weighed 220 pounds and in 1999 found himself unable to qualify for Team BC like three of his teammates. In one race at the 1999 Special Olympics BC Winter Games, he fell just short of the finish line and, unprompted by comments from anyone else, critiqued himself for his weight.
That was a big moment of change for Hazen, launching him into 13 years of dedicated training and impressive personal development. He has made significant improvements to his strength and physical conditioning, showed attentive adherence to training programs, and racked up impressive achievements in his racing, as well as losing more than 60 pounds.
Hazen's hard work paid off when he qualified for Team BC in 2004 and 2008, and he brought home many medals and lessons that spurred him to fresh efforts. He earned two silver medals and one bronze at the 2004 Special Olympics Canada Winter Games, and he captured another silver and two bronze at the next National Winter Games in 2008. He also showed his impressive maturity and commitment to personal development in his 1600-metre in 2008: He set his sights not on winning that race but on achieving a personal-best time, and in the final he went out and ran the race of his life, taking more than 20 seconds off his preliminary time.
In the two years leading up to the 2012 Special Olympics Canada Winter Games, Hazen worked toward making his dream of his first National Games gold medal a reality. His first race in St. Albert, Alberta, was the 1600-metre event, and this time he earned another excellent personal best – as well as that elusive gold medal!
Hazen sprung into the lead in the opening seconds of that 1600m race and never looked back, running his heart out. After he crossed the finish line, he shook hands with his competitors, and then asked his coach, "How did I do? Did I get a personal-best time?" He had a PB, and the gold to boot.
That night, he slept with the hard-earned gold medal under his pillow. He went on to win a silver medal and two bronze medals in the 2012 National Games, giving him what he called "a trifecta" – one medal of each colour.
Hazen's berth on the Team Canada training squad has truly been earned through his dedication, his positive and persistent attitude, and his remarkable commitment to his training and development. Caring, polite, enthusiastic, extremely dedicated and responsible, upbeat, positive, and persistent: those are the words chosen to capture Hazen's personality.
As an athlete with autism, Hazen has overcome challenges in staying focused. He has built up his ability to focus for lengthy periods, and he has channelled his energy into his athletic abilities. He is the kind of athlete who trains independently in addition to his regular programs and adjusts his diet to complement his needs.
In addition to his athletic accomplishments, Hazen is known as a stellar representative for Special Olympics in his community. He is a busy athlete, active in 5-pin bowling, aquatics, athletics, floor hockey, and Club Fit in addition to his snowshoeing, and he is a willing speaker who has shared Special Olympics stories in everything from speeches at events and meetings to radio interviews.
He also works four days a week as a prep cook for a local business, a job he has held for 13 years, and he delivers newspapers to keep himself in shape and earn travel money. He learned French before travelling to Quebec for the 2008 National Winter Games, and he's working on Korean for his trip to the 2013 World Games.
At SOBC – Campbell River's long-standing annual fundraiser, the Howie Meeker Charity Golf Classic, Hazen is affectionately known by some as "Mr. Special Olympics."
"There is not a fundraiser that we host that Hazen does not volunteer to assist," his supporters wrote in nominating him for the Athletic Achievement Award. "He truly and sincerely cares for his fellow athletes. At weekly practices and at all competitions Hazen is always encouraging and supportive to his fellow athletes. Hazen exemplifies what a Special Olympics athlete is and should be."
Congratulations, Hazen!
Special Olympics BC congratulates all of the 2012 nominees for the Athletic Achievement Award:
Kristina Ettema (SOBC – Surrey)
Stephanie Rogers (SOBC – Sunshine Coast)
Drew Sabourin (SOBC – Victoria)
Beau Wryghte (SOBC – Campbell River)